It is very important to understand the key of making your ad more attractive & appealing to the local crowd by printing an ad in the regional language of that region as Advertisement in the local language is the best way of getting the quickest response as well as Many people living in Rural areas are comfortable with local languages this helps to increase the readership.
The most easiest way of giving an advertisement in regional newspapers is through an online ad booking site releasemyad.com As it India's largest online ad booking portal, Our portal is very first of its kind as it is a user friendly comprehensive online advertising booking platform designed in such a way so that advertisers can book their both classified ad & Display ad directly at lowest rates depending on Different category & size without any hassle.
So to become an expert in ad booking without making any mistakes you need to know certain basic rules before placing an ad in a newspaper, let us discuss below.
Ad Formats:
There are three ad format in newspapers:
Classified Text: In These types of ads format enhancements like screen, tick, color can be added to the ad according to the advertisers choice.
Display: Display ads which can be on any page and of any size or colour, You may use images, logos, and graphics along with texts. These are more expensive than text ads.
2.Categories allowed:
Certainly before placing an ad you need to know the category under which you should place your ad.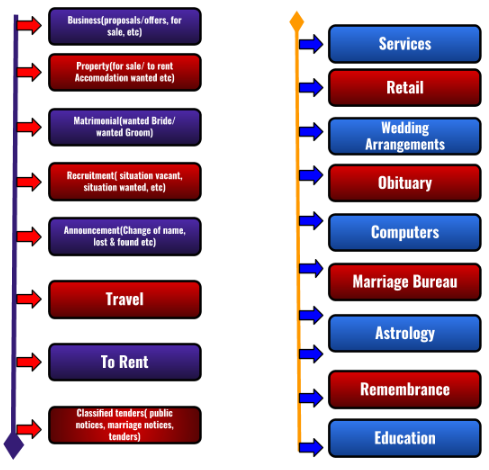 3.Documentation Required:
The general documents required for all paper are given below:
For a change of name: A notarized affidavit not more than 6 months old or a gazette copy.
For Lost & Found: FIR copy or General Diary (GD) or Notarized Affidavit(not more than 6 months old )
Different documents required for notice ad such as (public notice)
F.I.R or G.D copy required for share certificate lost, C Forms lost, or loss of property papers & For the company documents lost etc.
Housing society:Ad Matter should be written in society letterhead, duly signed & stamped.
A letterhead from a practicing lawyer full ad matter should be written, along with his signature, registration number seal & date is required as a proper legal supporting document .
For Obituary or remembrance advertisement:Death certificate issued by the General Practitioner (GP) & Doctor's Note stating name & date of death of deceased person receipt from crematorium or burial ground
4.Things that are compulsory for ad matter
Always mention contact details like phone number or email address in the matter.
Always keep the matter short & precise.
Avoid spelling mistakes.
After knowing all the above points you are ready to book an advertisement in the regional newspaper with the help of releaseMyAd.
With three easy steps
For more information, or have some other queries? mail us at book@releasemyad.com, or call us on 09830629298.