Classified advertisements are a form of advertising that is most commonly seen in newspapers. These advertisements are much cheaper than other larger advertisements (such as display advertisements, which take up a lot more space and contain more elaborate designs). Classified advertising has existed for over two hundred years, and still remains one of the most popular forms of advertising. 
Classified advertisements are typically short, as they are charged on the basis of number of lines or number of words used. These ads are one newspaper column wide and an average classifieds page in a standard broadsheet newspaper can contain over 60 classified ads.
Classified advertisements are very easy to book as all one requires to do is compose a short copy of the advertisement, containing all the relevant information as well as one's contact details. For those seeking to design more complex advertisements or with more elaborate designs, many publications and agencies offer specialised services.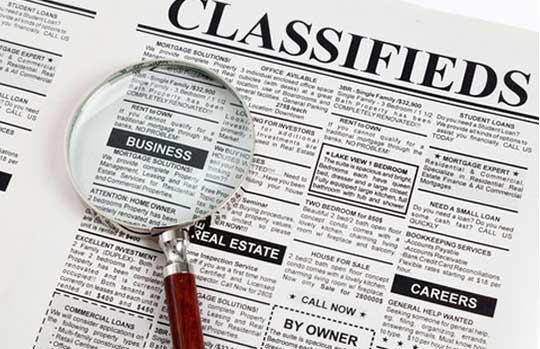 The ease of booking a classified ad helps individuals as well as small business owners reach their respective target audiences by focusing on the specific ad category, such as property, vehicles, retail, public notice, matrimonial, business etc. This makes the advertisements attractive to people who are serious about transacting with you. Another major advantage of classified ads is that of localised targeting. If you want to sell machinery or car parts in Kochi, placing such an ad in the Kochi edition of a national newspaper or a local newspaper that is circulated in Kochi is most effective as your customers are located there.
In India, a very large number of people run family businesses, small proprietorships or are traders. Classified ads are an extremely important medium for them to advertise as they often lack the budgets for advertising in other media spaces such as billboards, TV or radio. Classified ads are also extremely helpful for a host of other purposes such as personal ads, lost and found ads as well as ads that must be published as a legal requirement such as change of name ads. These ads all appear in the classifieds section in a newspaper.
Book your newspaper classifieds through releaseMyAd, India's largest self service ad booking platform with a strong nationwide presence and a wide network of advertising partners across India. releaseMyAd, with its more than a decade of experience in the ad booking industry, helps you reach out to your target audience in your chosen location. Offering you guidance and support with booking your ad right till the time your ad is successfully published, releaseMyAd helps to make booking your newspaper classified ads online a simple and seamless process.