Deccan Chronicle was launched in the 1930s by Rajagopal Mudaliar. Since its foundation, the newspaper has withstood the test of time and is today one of the finest English language newspapers in India. Over the years, Deccan Chronicle has grown to become the most widely circulated English language news daily in India's southern states. Known for its top notch journalism and high quality news reporting, Deccan Chronicle is one of the most popularly read English language newspapers in India today.
Being one of the premier English language news dailies in the Indian news landscape, Deccan Chronicle is read by millions of readers in not just the southern region of India, but across the country. On any given day, it is estimated that Deccan Chronicle has more than 1.45 million copies of the newspaper in circulation. The newspaper is primarily concentrated in India's southern states, namely Andhra Pradesh, Telangana, Tamil Nadu, Karnataka and Kerala, but commands a strong following across the country as well.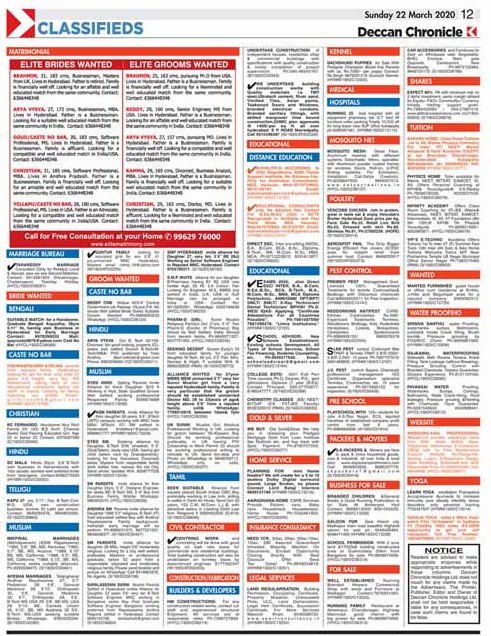 The newspaper is estimated to have a total readership of more than 1.1 million people in not just India but also in other parts of the world, where non-resident Indians rely on it for the latest news from back home in India. These countries include the United States, the United Kingdom, Australia, Canada and Singapore.
It is well known that arranged marriages are the tradition in Indian culture, and families place a great deal of importance on finding the most suitable partners for their sons and daughters. This is because a marriage is not just the coming together of the bride and the groom, but the union of their respective families as well.
Booking a Deccan Chronicle matrimonial, therefore, is sure to help make your search for the perfect partner a hassle free affair!
releaseMyAd makes booking matrimonial ads in Deccan Chronicle easy and swift through its user-friendly ad booking platform. You can have your Deccan Chronicle classified ads booked within minutes!
releaseMyAd is India's largest self-service online ad booking platform with more than a decade of experience in the advertising industry. Over the years, releaseMyAd has gained rich expertise and a wealth of experience in this field. With its strategic ad placement techniques and a strong network of advertising partners located across the country, releaseMyAd is proud to guarantee you the lowest rates for all your advertising needs.