For any advertiser, it is really important to understand their requirement for putting up the ad. Before they place the ad in any newspaper, it is really important to figure out the purpose behind putting up the ad, an approximate budget, and what is the tentative feedback expectation. This helps the advertiser to make the advertising process pretty effective. But before anything first an advertiser needs to know about the different formats of Newspaper advertisement to make him/her ad decisions better.
The newspaper advertisements can be divided into three broad types based on :
Content matter
Purpose
Price
Location in the paper
Costing criteria
Let's start with the types of advertisements to have a better understanding.

Display Advertisements – Display advertisements are premium ads that appear in a newspaper. These ads are the most costly one that is possible to place in a newspaper. There is an absolute reason behind it's high cost, i.e., These kinds of advertisements allow an advertiser to put up creative content and creativity attracts customers. In the case of Display advertisement, an advertiser puts up the design that includes both text and images along with amazing colors, logotypes, Clip arts, and many more. Thus the purpose of putting up these kinds of ads is gaining more feedback. Generally, these kinds of ads are often placed by Business organizations, Educational Organizations, and Corporate organizations. These ads can be of different sizes and can be located on different pages throughout the newspaper except the Classified page which is dedicated to the Classified Advertisements. It is costed based on the size per sqcm. which varies from paper to paper. Surveys have proved that according to the general human reading behaviour the odd number pages, front page, and the back page acquires most of the attention. Thus, almost all newspapers placing a display ad in these pages cost more than placing it on any other page.

Classified Display Advertisements – Classified Display Ads are almost the same as the display ads. Except for the location in the newspaper. These appear only on the dedicated classified page in all newspapers. It is more visually appealing than classified text ads. Here customized font, color, logo, or image can be added to make the ad visually more effective for the target readers. These ads are charged based on per sq.cm. Generally, classified display ads are placed to communicate with a very specific group of readers which will fulfill both side requirements.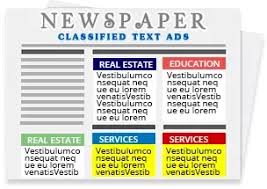 Classified Text Advertisements – Classified Text Ads are the most cost-effective advertisements in any Newspaper. The Ads appear in the classified section in the standard running text format and no creative images, logos, e.t.c are allowed. Thus, it is also known as Run-On-Line ads. Rate is charged per Line/Word/Character basis. Generally, this is not chosen for Obituary and Remembrance ads, because of not allowing any incorporation of pictures.
After understanding the ad formats, it must be easier for you to easily decide which one is suitable for your requirements. Now make your ad booking easier, book through releaseMyAd. Click on and book your ad hassle-free from any time anywhere just using your internet connection. It will save both your time and money. In case you face any problem you can also get assistance by calling at 9830629298. All the best for your next ad booking.