The Times of India is easily one of the most recognisable names when it comes to English language journalism in India. An immensely respected newspaper, it is not all that surprising that The Times of India is the world's largest selling English language daily newspaper.
The Times of India is owned and published by Bennett Coleman & Co. Ltd., which is more popularly known as The Times Group. The newspaper was founded in the year 1838 and, over its illustrious 181-year history, has become one of the most iconic news brands in India with an extraordinary readership both in India and abroad.
With more than 2.8 million copies of the newspaper in circulation across the country on any given day, The Times of India commands an extremely large and loyal readership. The Times of India is the oldest English language newspaper in the country and the second-oldest Indian newspaper that is still continuously published since the year of its foundation. In the year 1991, the BBC declared The Times of India to be one of the world's top 6 best newspapers.
According to the Audit Bureau of Circulations, The Times of India is the country's third most circulated newspaper and the 9th most circulated newspaper in the world. The newspaper is widely praised for its high quality journalism and exemplary standards of reporting. The Times of India extensively covers events happening in India and across the world.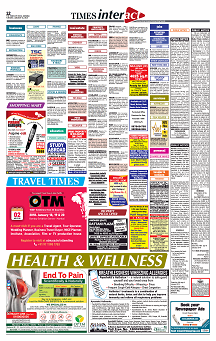 It's no surprise that The Times of India classifieds are hugely popular among individuals and business owners alike to reach out to their respective audiences. The newspaper's easy availability in cities, towns and villages across India makes it among the top choices for advertisers both small and large. Suffice it to say that The Times of India is not just a newspaper, but an integral part of Indian cultural life.
Given the sheer popularity of The Times of India in households across the country, booking TOI classifieds is one of the most effective ways to get noticed by your target audience, regardless of their location.
Book your Times of India classifieds through releaseMyAd and reach out to the people you have a message for. releaseMyAd, being India's largest self-service online ad booking platform, guarantees you a swift and easy ad booking experience. releaseMyAd has been in the industry for over a decade and has gained tremendous expertise in the field of ad booking over the years. With its strategic ad placement techniques and a strong network of advertising partners located across the country, releaseMyAd is proud to promise you the lowest rates for all your advertising needs.