Over the years, Sandesh has grown to become the preferred choice for a large number of readers not just in Gujarat, but across Gujarati speaking communities in other parts of India and even abroad.
Sandesh is owned by The Sandesh Ltd., which is a leading and well known media organisation. Each day, various editions of the newspaper are published from its printing locations in Ahmedabad, Vadodara, Bhuj, Surat and Rajkot in Gujarat, and also from Mumbai in Maharashtra.
Sandesh is a newspaper that enjoys vast appeal and popularity, and it publishes seven supplements along with the main newspaper. These supplements are Sanskar, Nari, Ardha, Saptahik, Nakshatra, Cine Sandesh, Kids World, Shraddha, Action Replay and Business@Sandesh, Stree and Agro Sandesh.
The newspaper's parent company, The Sandesh Ltd., also publishes two publications in Chicago to cater to the non-resident Gujarati community residing in the United States. These publications are Gujarat Weekly and Sandesh International.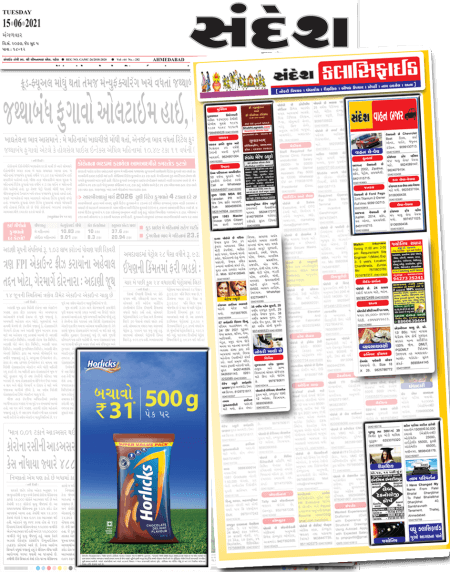 Every day, Sandesh brings to its readers the latest news stories from the region, the rest of India and around the world. In addition to all the latest news, Sandesh also provides readers with a range of content from diverse topics of interest, which include business, entertainment, technology, sports, lifestyle, astrology, travel and the newspaper also includes a section called 'Vishesh', and this section contains special stories from around Gujarat.
A Sandesh advertisement, therefore, can help you gain greater visibility in the region. In view of the diversity of its content, it can be safely said that Sandesh is a newspaper with something for everyone. 
Newspapers, being an important part of the social and cultural lives of Indians, are widely regarded as authentic and reliable sources of information on a variety of topics. It is for this reason that advertisements in newspapers have the power to influence and shape public opinion.
releaseMyAd is the largest self-service online ad booking platform in India with more than a decade of experience in the advertising industry, and helps you book your Sandesh classifieds seamlessly and at the lowest rates. Book your ad in Sandesh newspaper today!