Sandesh is one of India's leading Gujarati language daily newspapers. The newspaper was founded in the year 1923 and is based in Ahmedabad, the largest city and former capital of Gujarat.
The newspaper is owned by The Sandesh Ltd., one of the leading and most influential media organisations in the region. Every day, editions of the newspaper are published from Ahmedabad, Vadodara, Bhuj, Surat and Rajkot in Gujarat, and from Mumbai in Maharashtra.
Along with the main paper, Sandesh publishes seven supplements, namely Sanskar, Nari, Ardha, Saptahik, Nakshatra, Cine Sandesh, Kids World, Shraddha, Action Replay and Business@Sandesh, Stree and Agro Sandesh, providing plenty of opportunities to book your Sandesh advertisement.
The Sandesh Ltd. also publishes Gujarati Weekly and Sandesh International in the city of Chicago in the American state of Illinois, to cater to the non-resident Gujarati speaking population in the United States..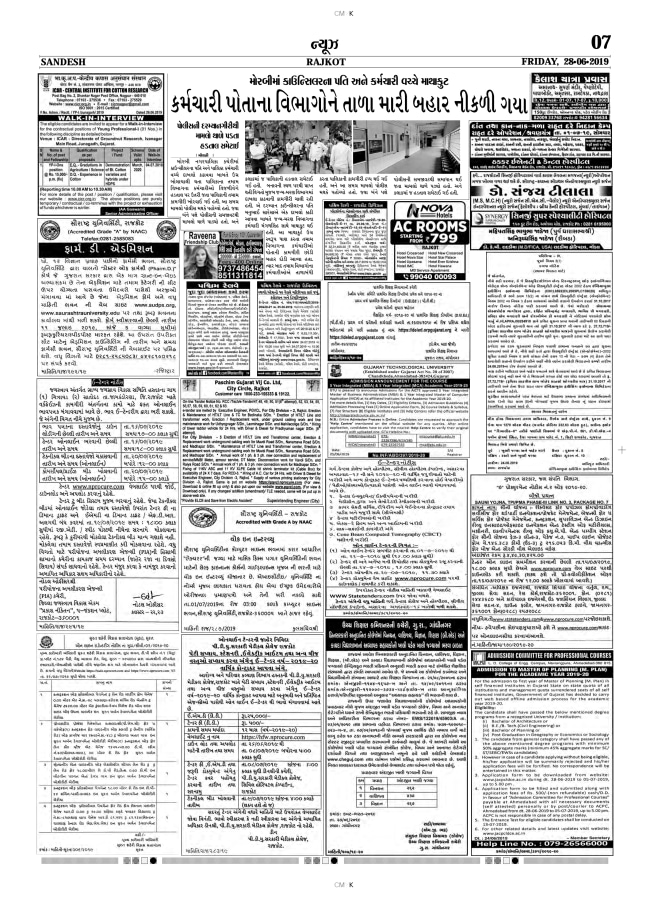 Sandesh is a popular Gujarati language newspaper and is widely read by readers across the region who want to keep themselves updated with the latest news and trending stories. Sandesh delivers the latest news from Gujarat, India and the world as well as stories and information from a vast selection of topics including business, entertainment, technology, sports, lifestyle, astrology, travel and also 'Vishesh', a section containing special stories from around Gujarat.
Advertising in Sandesh newspaper can help you reach out to a wide reader base, enabling you to generate valuable leads from India's large Gujarati-speaking population. 
This is where releaseMyAd steps in to help you out and give you the head start you need. Book your Sandesh newspaper ad through releaseMyAd and get noticed by your desired audience. Being a newspaper that caters to diverse and varied tastes, Sandesh is a newspaper that can give you and your brand the traction it requires.
releaseMyAd is India's largest self-service online ad booking platform with over a decade of experience in the advertising industry. Over the years, releaseMyAd has gained tremendous knowledge and immense expertise in this highly dynamic field. releaseMyAd, with its strategic ad placement techniques and a strong network of advertising partners located across India, is proud to guarantee you the lowest rates for all your advertising needs. Offering you an ad booking experience that is seamless and hassle-free, releaseMyAd lives up to its motto of Smart Media Buying.