We are all human beings, and sometimes, even the best of us may be prone to misplacing or losing any of our important documents. It does not need to be said that documents such as our identity cards, university marksheets, title deeds, driving licences, passports, share certificates, degree certificates and voter ID cards are extremely valuable and crucial, and are required to be presented at various occasions in our daily lives.
Misplacing them can be due to any reason, such as while travelling, while moving from one house to another or because of theft, among other reasons. Regardless of the reason, losing or misplacing important documents is sure to cause immense frustration and stress. In such a situation, retrieving the lost documents becomes urgent. If it is not possible to retrieve them, then obtaining duplicate documents becomes the course of action. Booking a document lost advertisement in newspaper is the first step in the process of obtaining a duplicate document.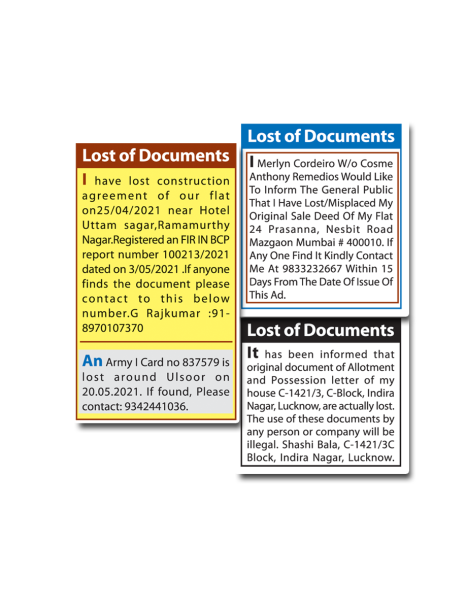 A loss of document ad in a newspaper serves to inform the public that a certain document has been lost or misplaced. It is also a means of declaring that the loss of said document is legitimate. This helps to prevent fraud from happening, as well as to prevent people taking undue advantage. As such, if the document is recovered, it contains the contact details of the owner so that whoever finds the lost document can inform them and duly arrange its return.
Publishing an ad in newspaper for loss of documents is also a legal requirement. In order to facilitate the processing of a duplicate document, booking an advertisement in a newspaper is stipulated by law. What one needs to do in case a document is misplaced or lost, is to first file an FIR in a local police station, and book a lost document advertisement in at least two newspapers. Of these two newspapers, one needs to be in the English language, and the other needs to be in the respective regional language of the state or Union Territory that the person is a resident of.
So if you are missing an important document and require duplicates to be generated, book your loss of documents ad through releaseMyAd. releaseMyAd is India's largest self-service ad booking platform with more than a decade of experience in the advertising industry. Over the years, releaseMyAd has gained valuable experience and rich expertise in this field. With its strategic ad placement techniques and a strong network of advertising partners located across the country, releaseMyAd is proud to guarantee you the lowest rates for all your advertising needs.