Founded on January 1st, 1932 by the eminent Narayan Bhikaji Parulekar, who is more popularly known as Nanasaheb Parulekar, Sakal is the most widely circulated Marathi language newspaper in the country. Sakal, which means 'Morning' in Marathi, is ranked among the top 10 regional language daily newspapers in India.
The newspaper has its headquarters in Pune and is the flagship publication of the Sakal Media Group. Sakal has more than 1.3 million copies of the newspaper in circulation on an average day and commands a large and loyal readership across the states of Maharashtra and Goa.
One of the most widely read regional language newspapers in the country, Sakal is published from the cities of Pune, Mumbai, Kolhapur, Sangli, Nashik, Aurangabad, Nanded, Parbhani, Solapur, Nagpur, Satara, Akola and Jalgaon. Sakal is read by an audience of over 6 million people who rely on the newspaper for their daily news and updates in the Marathi language.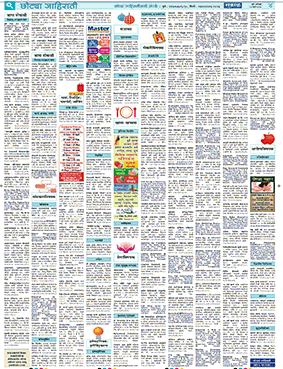 The newspaper provides the latest news and hottest trending stories from cities and districts in Maharashtra, across the rest of India and from around the world. Sakal is renowned for its quality of journalism and for its dispassionate and analytical coverage of the latest news stories. In addition, the newspaper also offers a host of content spanning a variety of topics such as sports, entertainment, science and technology, business and finance, among others.
This diverse selection of content offered by Sakal makes it an excellent channel for advertising. A Sakal classified ad is an economic yet effective way to reach out to your target audience. Classified advertising is one of the most popular and lucrative forms of advertising today. These ads are called 'classified' ads because they are classified on the basis of ad category. 
Whether you are an individual or a business owner, booking a Sakal newspaper advertisement is sure to bring you rich rewards in due time. Sakal is nothing less than a household name, so if you are looking to get your message across to your audience in Maharashtra and Goa, an ad in Sakal is greatly recommended!
Book your Sakal newspaper ads through releaseMyAd and reach out to your desired audience. releaseMyAd is India's largest self-service online ad booking platform with more than a decade of experience in the ad booking industry. releaseMyAd offers you a user-friendly ad booking platform and comprehensive support and guidance all throughout, from the time you book your ad till the time it is published in Sakal. With its strategic ad placement techniques and a strong network of advertising partners located across the country, releaseMyAd guarantees you the lowest rates for all your ad requirements.