The Economic Times is owned and published by Bennett Coleman & Co. Ltd., a media and publishing group more popularly known as The Times Group. The newspaper was founded in the year 1961 with a vision and commitment to delivering the latest news from the world of business, economy, markets and finance. In fact, The Economic Times is the second most widely read English language newspaper in the world!
The Economic Times is published every day from 14 locations across the country. The newspaper is published in the cities of Mumbai, Bangalore, Delhi, Chennai, Kolkata, Lucknow, Hyderabad, Jaipur, Ahmedabad, Nagpur, Chandigarh, Pune, Indore and Bhopal. The newspaper is hugely popular for its standard of reporting and the quality of its news stories. Its large and loyal reader base consists of business owners, entrepreneurs, corporate executives, professionals young and old and practically anyone who wants to have a better understanding of the world of business.
With its primary focus on the latest news relating to the Indian economy, domestic and international finance, stocks and share prices, the commodity and money market both in India and abroad as well as industry news from India and around the world, The Economic Times is your comprehensive business newspaper. The newspaper also contains sections dedicated to national and international news, and offers a selection of news stories from a variety of categories such as automobiles, wealth, real estate, jobs, energy, defence, sports as well as politics. The newspaper also contains opinion pages and a leisure section.
On any given day, there are more than 3,50,000 copies of The Economic Times estimated to be in circulation. The newspaper is read by a total readership of more than 8,00,000 people across the country.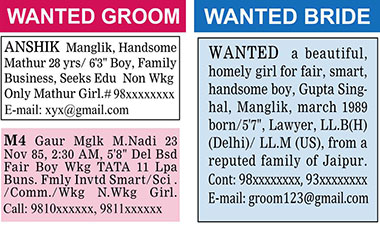 Despite its focus on business news, a large number of people rely on The Economic Times matrimonial ads to find the most suitable bride or groom. Marriage is an extremely important event in Indian culture and traditionally, marriages are viewed as not just the coming together of the bride and groom who embark on a new chapter in their lives, but the union of their respective families as well. 
The Economic Times is a newspaper that commands a large and engaged readership, and can be extremely useful in helping you or someone in your family find their perfect partner. A matrimonial ad in The Economic Times could help you get noticed by a large number of people, helping you get more candidates to get to know and make a selection from.
releaseMyAd can help you book your ad in Economic Times newspaper without a hassle. So if you are looking for your soulmate, book your matrimonial ad in The Economic Times through releaseMyAd and avail of the best rates. releaseMyAd, with its strategic ad placement techniques and a strong network of advertising partners located across the country, helps to make ad booking seamless, time-saving and cost effective for you. releaseMyAd fulfils its commitment to Smart Media Buying by providing you the lowest ad rates for all your advertising requirements.