Daily Thanthi was founded in the year 1942 during the peak of India's Independence Movement. It was founded in Madurai by S. P. Adithanar, and is one of India's finest regional language daily newspapers.
Over the decades, Daily Thanthi has grown to become the most widely circulated Tamil language daily newspaper in India. There are more than 1.7 million copies of the newspaper in circulation on an average day, catering to a vast and loyal readership across the region.
Daily Thanthi is known as 'Dina Thanthi' in Tamil and it holds the ninth spot among all Indian daily newspapers in terms of total circulation figures. One of the most respected newspapers in India, Daily Thanthi is published in 16 cities across the country, namely Bangalore, Chennai, Coimbatore, Mumbai, Pondicherry, Cuddalore, Dindigul, Erode, Madurai, Nagercoil, Salem, Thanjavur, Tiruchirappalli, Tirunelveli, Tirupur and Vellore. There is also an international edition of Daily Thanthi that is published in Dubai specifically for the Tamil-speaking population in the United Arab Emirates, as well as the rest of the Middle East.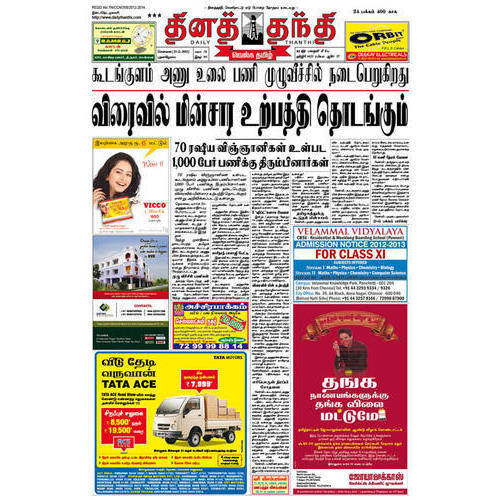 Daily Thanthi is a prestigious newspaper that is reputed for its high standards of journalism and reporting. It is nothing short of a household name among Tamil speaking people in not just Tamil Nadu, but across India and the world. Daily Thanthi brings you the latest news from the cities and districts of Tamil Nadu, around India and the rest of the world. In addition to its coverage of the latest stories that make headlines, the newspaper also provides a rich assortment of content from diverse topics such as sports, entertainment, astrology, cinema and several others.
Given the sheer popularity of classified advertising, a newspaper with as wide a readership as Daily Thanthi could well give you the visibility you are looking for, whether you are an individual or a business owner. Classified ads have since centuries been a consistent feature in newspapers, with advertisements conveniently arranged on the basis of categories such as matrimonial, property, services, education, lost and found, retail, computers and so on. Booking classified ads saves you not only money but also time as booking a Daily Thanthi classified can be done within minutes!
Book your Daily Thanthi newspaper ads through releaseMyAd and get noticed by your desired audience. releaseMyAd is India's largest self-service online ad booking platform with more than a decade of experience in the ad booking industry, and is happy to provide you with seamless and hassle-free service. Over the years, releaseMyAd has gained immense expertise and valuable experience in this highly dynamic field. With its strategic ad placement techniques and a vast network of advertising partners located across India, releaseMyAd guarantees you the lowest rates, making booking your Daily Thanthi advertisement a breeze