It is a fact that the turning point of anyone's life is marriage. That is why everyone wants to make this the best turning point so that one can live happily in the years to come! However, such an utopian dream is not always possible to achieve to its fullest but one can at least try to achieve it. For finding a suitable life-partner, people often take the help of newspaper advertisements. Matrimonial advertisements are published in newspapers by match-seekers. They book ads under 'Bride wanted' and 'groom wanted' advertisements. In addition, they can also book ad posts under various castes and communities to specifically find a life-partner from their community.

Almost all Indian newspapers, be it National newspapers or regional news dailies publish wanted Groom ads in a dedicated matrimonial classified page. Now the question arises how do potential grooms look for Groom classified ads according to their preferences? The answer is quite simple since most newspapers print wanted Groom classified ads under a set of standard categories. The most common ones you will come across are By Caste, by community, by language, by profession.

Booking matrimonial classified ads in The Tribune newspapers has been a recurring trend in India. A large section of these classified ads comprise of matrimonial ads, to be precise Wanted Groom ads. The sole purpose of booking wanted grooms newspaper ads is to get the maximum possible response from potential bridegrooms across the country. The Tribune is the leading English daily newspaper widely circulated and highly popular in Punjab, Chandigarh and also in the adjoining states like Haryana, Himachal Pradesh, Jammu and Kashmir. It is published from Chandigarh, New Delhi, Jalandhar, Dehradun and Bathinda. Tribune newspaper also comprises two more sister publications called Dainik Tribune (published in hindi language) and Punjabi Tribune (published in punjabi language).

There are commonly two types of ad booking formats in which grooms wanted ads can be placed under matrimonial section. One is the Classified Text format where the ads appear in simple run-on-line form. Enhancements like screen, tick, bold or color can be added for extra visibility. They are charged on the basis of words and the other one is Classified Display in which the ads enable usage of pictures/ logos as when required and allow customized font sizes. These ads can be booked both in colour as well as in black & white. These are little more expensive than the text ads and can be composed directly online with the use of templates. Advertisers can also upload their ads in PDF/JPEG/EPS/PNG formats and just specify the dimensions of the Punjab Kesari ad for instant booking. The width of the classified display is fixed at a maximum of 1 column which is equivalent to 3 cm.These ads are charged on the basis of per sq.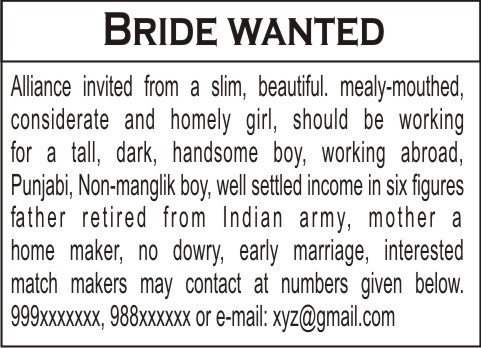 Wanted Groom ads in The tribune publishes on every Sunday under the Grooms Wanted section in the matrimonial classified page. The sub classification of category plays a very vital role in receiving suitable responses. For matrimonial ads in The Tribune the classification is only based on caste namely Agarwal, Jat, Khatri, Punjabi Khatri, Brahmin, Kayastha, Khatri , Sikh Khatri, Sikh Arora etc. to name a few.
If you wish to publish in all editions go for this best-valued package-

The Tribune (English) + Punjabi Tribune (Punjabi) + Dainik Tribune (Hindi) – 690/15 Words
If you need to advertise in locations like Chandigarh, Ambala, Amritsar, Ludhiana, Bhatinda, Hisar, Panipat, Delhi & Dehradun, go for any of the below packages-

For Classified Text ads:
The Tribune (All Editions) – Rs. 450 /15 Words
The Tribune(All Editions) + Punjabi Tribune + Dainik Tribune – Rs. 735 /15 Words
The Tribune(All Editions) + Dainik Tribune – Rs. 585 /15 Words
The Tribune(All Editions) + Punjabi Tribune – Rs. 600 /15 Words

For Classified Display ads:
The Tribune (All Editions) – Rs. 10,792 (3.8 cm x 4 cm)
The Tribune(All Editions) + Punjabi Tribune + Dainik Tribune – Rs. 15,352 (3.8 cm x 4 cm)
The Tribune(All Editions) + Dainik Tribune – Rs. 12,312 (3.8 cm x 4 cm)
The Tribune(All Editions) + Punjabi Tribune – Rs. 13,604 (3.8 cm x 4 cm)
Offers : Book 2 Ads Get 5% off, Book 4 Ads Get 10% off
You can find the best groom for your loved one via The Tribune Classified Ads. For more information, please contact us at 09830629298.