In India, individuals tend to change names given to them at the time of birth. While some voluntarily change it for the sake of a personal dislike, others may have been pursued by their families to change it for religious or numerological purposes. Not just this, most women in India are coaxed to change their maiden names or even their first names after marriage. Divorce is also a reason as to why a woman would get her name rechanged to her original maiden or a name that she would prefer.

Other errors like spelling mistakes in legal documents may also drive you into the name changing fiasco! Now that people have multiple purposes to change their names, a good way to let out this information is by posting a 'change of name' advertisement in a newspaper. The procedure to post a name change advertisement is unlike any other. It includes a legal proceeding as the following.

Name change demands you to get an affidavit from the nearby Magistrate or Notary public for legal documentation of your changed name. 
The affidavit should be made on a Non-Judicial stamp paper of minimum value.
The affidavit should include the current name, new name and brief statement of the purpose of change. 
Provide the affidavit to the agency through which you are booking the advertisement. 
Booking your name change advertisement with The Times Of India will help you publicize the information as the newspaper has a readership and reach which is unparalleled to any contemporary English language daily. The newspaper is one of great character and virtue as it disperses news which is unbiased and diverse. It caters to the news demands of a scattered audience type, taking care of each of their news needs. Such is its virtue!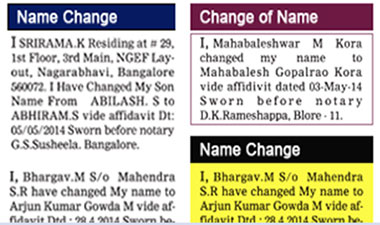 Wondering how to give an ad in TOI for name change? releaseMyAd aids you with the procedure. From guiding you through the legal proceedings to helping you get the ad published, it does it all. Efficient executives hallmarked service and a decade of experience in the advertising industry makes it an online agency which is now hard to compete with.
Follow this booking process to get your ad published. If you don't want to or find it difficult to proceed yourself- call 09830629298 or email at book@releasemyad.com.
Click here to book your Times of India name change ad- https://timesofindia.releasemyad.com/rates/change-of-name
Select the text or display type advertisement according to your preference.
Select the package that is affordable for you.
Head to the composition section to design your ad. This is a lucid and hassle-free process as The Times of India name change ad format will be presented to you. Click on the template and upload your content.
Finally, set the date of publish and Pay! It's that simple.
releaseMyAd simplifies everything for you, gives you viable advice on newspapers and reach out, leaving no stone unturned in your service. What keeps you worrying now? Book your Times of India name change ad right away!