Sakshi is one of India's leading regional language daily newspapers. Owned and published by the Sakshi Media Group, Sakshi is a newspaper that commands a large, loyal and engaged reader following in the Telugu speaking states of Andhra Pradesh and Telangana.
Sakshi was launched in the year 2008, and has since grown to become one of the most popularly read Telugu language newspapers in the country. As of today, Sakshi is the second most widely read Telugu language newspaper, being second only to Eenadu.
On any given day, it is estimated that Sakshi has more than 1.3 million copies of the newspaper in circulation. The newspaper is the preferred choice for millions of readers who regard it as an authentic and trustworthy source of the latest news as well as an assortment of other information. Sakshi's total readership is not restricted only to the states of Andhra Pradesh and Telangana, but includes the Telugu speaking communities located in various other parts of India as well.
It is estimated that Sakshi is read by a total readership of more than 3 million people in the region and in the rest of India. There are several city and regional editions of Sakshi that are published, helping the newspaper to extensively cover India's Telugu-speaking region.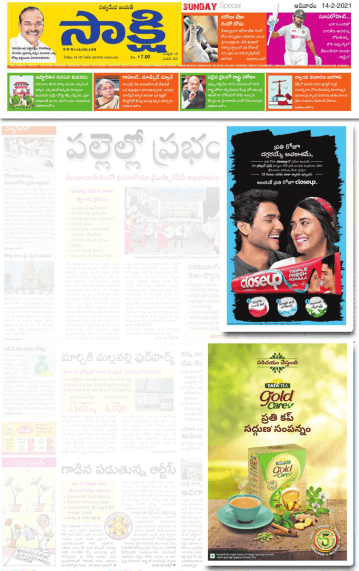 Every day, and in each and every edition, Sakshi brings to its readers the latest news from the region, the rest of India and around the world. In addition to the latest news stories, the newspaper also provides readers with an extensive selection of content from a variety of topics. These topics include cinema, sports, business, family, literature, lifestyle, devotion, travel and food. Sakshi also has pages dedicated to guest columns as well as editorial sections.
This assortment of content makes Sakshi a newspaper that truly offers something for everyone. For this reason, a Sakshi classified ad is exactly what you need to get valuable exposure to a wider audience. 
In India, newspapers are regarded as reliable and authentic sources of information on a range of topics, and are an indispensable part of the contemporary Indian lifestyle. This makes it an attractive proposition for advertisers to place ads in Sakshi so that they can reach out to a large number of Telugu speaking readers.
releaseMyAd is here to help make booking your Sakshi advertisement a seamless and hassle free experience. releaseMyAd is India's largest self service online ad booking platform with more than a decade of experience in the advertising industry. Over the years, releaseMyAd has gained immense experience and rich expertise in this field. With its strategic ad placement techniques and a strong network of advertising partners located across the country, releaseMyAd is proud to guarantee you the lowest rates for all your advertising needs.