Rajasthan Patrika is one of the most well known Hindi language daily newspapers in India. The newspaper was founded by Karpoor Chand Kulish on the 7th of March, 1956 in Jaipur. Rajasthan Patrika has, over the years, grown to become a news publication that is nothing less than a household name for millions of people, and an icon of Hindi news journalism in the country.
Since its foundation in the year 1956, Rajasthan Patrika has become one of the most popularly read Hindi language news dailies in the country, catering to a large, loyal and engaged readership. The newspaper is a publication of Rajasthan Patrika Pvt. Ltd., which is more popularly known as the Patrika Group. Rajasthan Patrika is widely read across the predominantly Hindi speaking regions of India, and is popular even across other parts of the country among Hindi speaking communities.
Renowned for its extensive and comprehensive coverage of the latest news, as well as its reach and availability across the Hindi speaking regions of India, Rajasthan Patrika is a newspaper which is the preferred choice for a large number of people.
The newspaper was founded in Jaipur and has its headquarters in the same city. Being one of the most respected and iconic news publications in the country, it enjoys a rich reputation among its readers. Its wide circulation makes it easy to access across numerous districts. Despite being concentrated in the states of Rajasthan, Madhya Pradesh and Chhattisgarh, which are mainly Hindi speaking states, Rajasthan Patrika is read by people across the length and breadth of India. According to the Indian Readership Survey of 2013, Rajasthan Patrika was ranked the fourth most popular Hindi language newspaper and Patrika was ranked the sixth most popular Hindi language newspaper in the country. The newspaper also has a significant presence in the southern states of India as well.
The newspaper is published as Rajasthan Patrika in Delhi and Rajasthan, and as Patrika in the states of Madhya Pradesh, Chhattisgarh, Karnataka, Gujarat, West Bengal and Tamil Nadu. On any given day, it is estimated that there are more than 1.7 million copies of Rajasthan Patrika as well as Patrika published and circulated to a large number of people. It is estimated that the total readership of Rajasthan Patrika and Patrika is well over 31 million people across the country.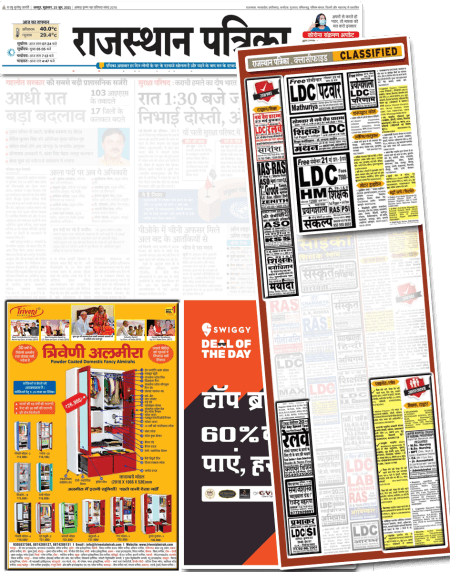 In each and every edition of Rajasthan Patrika, readers get to know the latest news from the region, the rest of India and around the world. Along with the latest news stories, the newspaper also provides readers with an assortment of content spanning diverse topics, including entertainment, sports, automobiles, gadgets, business, health, devotional and astrology, and many others.
Nowadays an increasing number of people prefer to read Rajasthan Patrika epaper on their mobile phones, tablets and computers. Given the level of technological advancement as well as the sheer connectedness of today's world, it is no surprise that more and more people are getting their news online.
releaseMyAd has made its foray into the realm of online news media, and is proud to offer you the latest editions of Rajasthan Patrika. On releaseMyAd, not only will you be able to read the newspaper online, but you also be able to download Rajasthan Patrika PDF newspaper to your mobile phone, tablet or computer to read as per your convenience.
So, what are you waiting for? Read the latest edition of Rajasthan Patrika through releaseMyAd today!