Navshakti is one of India's leading regional language newspapers. It is a Marathi language newspaper that was founded by Swaminathan Sadanand, and the newspaper was launched in the year 1943.
The newspaper has its headquarters in the city of Mumbai, and it is read by a large number of people across the state of Maharashtra. Navshakti caters to a large, loyal and engaged reader base across the region, and the newspaper is well known for its high standards of journalism and news reporting.
Over its rich history spanning more than seven decades, Navshakti has become the preferred choice for many Marathi speaking readers to keep themselves updated with all the latest news and ongoing events from the state of Maharashtra, the rest of India and around the world.
On any given day, it is estimated that Navshakti has more than 83,910 copies of the newspaper in circulation, catering to the large reader base that relies on the newspaper for daily updates regarding current affairs as well as a host of other information from a wide range of topics.
In view of the fact that Navshakti is a newspaper that has something of interest to readers of diverse backgrounds makes it a newspaper that is read by people from all walks of life. Needless to say, this makes the newspaper an excellent channel for booking advertisements as well. By booking a Navshakti advertisement, you can reach out to your desired audience.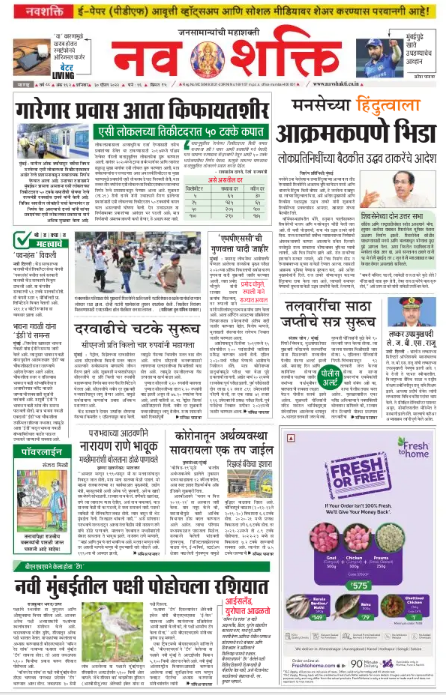 In India, newspapers hold an important place in the daily, cultural and social lives of the people. Newspapers are regarded across the country as authentic and reliable sources of information on a wide variety of subjects in addition to being a medium for reporting the latest news and events.
Given the role that print media plays in Indian society, it goes without saying that advertisements in newspapers go a long way in influencing and shaping the general public's opinions and preferences. Since a large number of people read newspapers, advertisements are an effective way to educate, inform, make aware and call to action. You can get your message across to the people you want to reach out to with a Navshakti display ad. releaseMyAd helps you book your ads in Navshakti newspaper seamlessly and at the lowest ad rates.
releaseMyAd is India's largest self service online ad booking platform with more than a decade of experience in the advertising industry. Over the years, releaseMyAd has gained valuable expertise and a wealth of experience in this field. With its strategic ad placement techniques and a strong network of advertising partners located across the country, releaseMyAd is proud to guarantee you the lowest rates for all your advertising needs.