Founded by Kandathil Varghese Mappillai in March 1888, Malayala Manorama has grown to become one of the most prestigious and well known regional language newspapers in India. Malayala Manorama was originally founded as a weekly news publication in the Malayalam language and it was in 1928 that it became a daily newspaper.
As of today, Malayala Manorama is one of the most widely circulated newspapers in the country. Well loved by people across all generations, Malayala Manorama is the preferred choice for the latest news among millions of readers across not just Kerala, but for many Malayalam speaking readers across India and even abroad.
With its headquarters in Kottayam, Malayala Manorama is the most widely circulated newspaper in the state of Kerala, and is also one of the most sold regional language news publications in all of India. Needless to say, Malayala Manorama commands a large and engaged reader following.
It is estimated that Malayala Manorama has more than 2.3 million copies of the newspaper in circulation on any given day, and is read by a total readership estimated to be well over 20 million people across India and abroad, chiefly in the Gulf countries. Not only is Malayala Manorama the most widely read newspaper in Kerala, but also the fourteenth most widely circulated newspaper in the world!
Malayala Manorama is published from 19 locations across India and outside the country. The newspaper is published from three locations in the Middle Eastern countries, which are Dubai in the United Arab Emirates, Manama in Bahrain and Doha in Qatar.
Malayala Manorama is not just a newspaper, but an integral part of the cultural life of Malayali people. It is the first choice for millions of people who rely on the newspaper for their latest news from the region, the rest of India and from around the world. Along with the latest local, national and international news, Malayala Manorama offers readers a vast selection of content spanning a diverse range of topics. These topics include sports, entertainment, lifestyle, politics, astrology, technology, music and travel, and many others.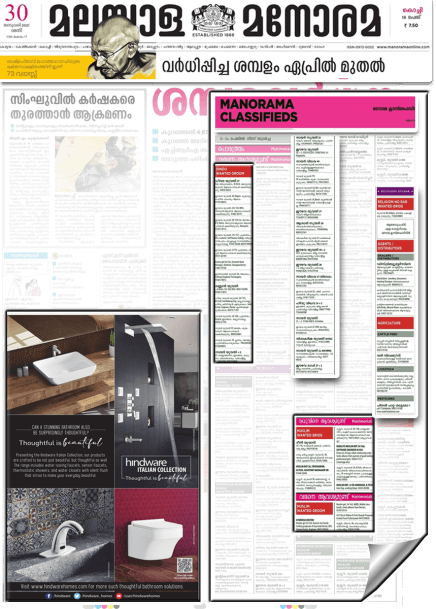 This wide selection of content makes Malayala Manorama popular among readers of all age groups and from all walks of life. The evolution of technology has made it possible for readers to read Malayala Manorama on their computers, mobile phones and tablets, wherever they may be located. Now, releaseMyAd offers you the latest editions of Malayala Manorama on its website, as well as the option to download the newspaper! You will be able to read Manorama newspaper online through releaseMyAd's website, where you will be able to access the latest editions of the newspaper. If you wish to read earlier editions of Malayala Manorama, you will be guided to the respect page of Malayala Manorama's website.
releaseMyAd is at the forefront of the revolution in media today, and is proud to offer you the option of downloading Malayala Manorama epaper PDF to your personal device to read at your convenience. releaseMyAd, as India's largest self service online ad booking platform, offers you a multipurpose platform where you can not only book your classified ads in newspapers of your choice, but also read their latest editions in an online format.