It may sometimes happen that we misplace or are unable to find certain items of value, such as personal belongings or any forms of documentation, such as an identity card, driving license, examination mark sheet or title deed. These documents are extremely valuable and retrieval is crucial, and this is why people need to book a lost and found advertisement. These misplacements can happen due to a variety of reasons, such as moving from one house to another, travelling or loss in transit on account of carelessness or mishandling.
Therefore, in order to obtain duplicates or replacements of these documents or items, such as passports, student identity cards, bank documents, share certificates, college degree certificates and many others, certain legal requirements need to be fulfilled. Publishing a lost and found advertisement in a newspaper is one of them.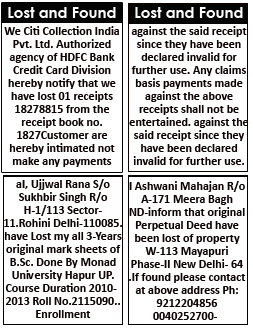 A lost and found advertisement is an announcement made to the public about something that has been lost, stolen or misplaced as well as to inform the public if such an item has been found or located. Publishing a lost and found ad achieves two purposes, namely, giving the public a call to action to inform the advertiser in case a missing item has been found, or to announce to the public the news of a located item so that the rightful owner may contact the person concerned and retrieve it. These ads help to provide information both ways, hence 'lost' and 'found'.
By publishing a lost and found advertisement, one can reach out to a large number of people and make them aware of an item that has been lost or retrieved. As mentioned above, these ads help to bring knowledge of missing items to the public as well as to facilitate their recovery so that they may be duly returned.
In India, newspapers are a staple in pretty much every household. Lost and found ads are effective in getting information to a large number of people and maximising the chances of the right person seeing the ad and acting on it accordingly. They fulfil a legal requirement as obtaining duplicates or fresh copies of certain documents requires that an FIR be filed at a local police station as well as a lost and found ad be published in a local newspaper.
So if you are looking to book a classified in newspaper for lost and found in Delhi releaseMyAd is here to help make ad booking a hassle-free affair for you. releaseMyAd is India's largest self-service online ad booking platform having tie-ups with numerous reputed Delhi newspapers. releaseMyAd has gained valuable experience and rich expertise over the years and offers you an ad booking experience like no other. releaseMyAd, with its strategic ad placement techniques and a strong network of advertising partners located across the length and breadth of the country, is proud to guarantee you the lowest rates for all your advertising needs in Delhi and beyond.