Arranged marriages still remain the majorly preferred, as per servey even now around 85 percent of people prefer to marry the boy or girl chosen by their families, rather than choosing their life partners themselves. Arranged marriages are viewed not as something done based on feelings, but something done based on a commitment and through that commitment, feelings will develop with time.
Historically speaking, weddings during the Vedic times took place by a variety of methods. While arranged marriages were preferred, the consent of the bride was generally taken into consideration. In case of royal families, parents arranged a Swayamvar, a ceremony where suitable matches from all over the country were invited. Thereafter, either these suitors had to prove their prowess to win over the girl, or the girl herself will choose one of them, by offering him a flower garland.
Nowadays The planning of arrange marriage starts with putting up a Matrimonial ad. People give matrimonial ads to find out the best partner for them. People put these ads with an expectation of getting proper quality responses Therefore choosing your newspaper wisely is a must. Isn't it ? 
The major reasons for you to think about advertising a matrimonial ad in Lokmat are:
Huge Readership: Lokmat is no.1 and Largest read marathi daily with 2.18 cr readers which is famous and popular among all groups of people in the entire Maharashtra.
Location coverage: Lokmat has 11 Marathi editions covering entire Maharashtra and Goa. Lokmat is published from Mumbai, Pune, Nagpur, Aurangabad, Nashik, Kolhapur, Jalgaon, Ahmednagar, Solapur, Akola & Panaji. They have also added a new edition name Delhi.
Cost of Advertising is Low: The cost of advertising is quite low if we compare with the other available options, the coverage and popularity. Its rates are designed to serve all groups of people and offer a very pocket friendly convenient way of getting responses by spending less amount.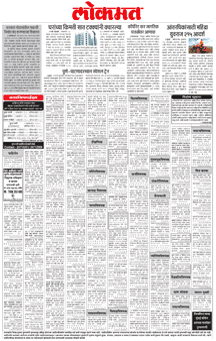 As discussed earlier it has 11 editions the rates of placing a matrimonial ad is in between Rs. 60 – Rs. 1150 per 7 lines varies according to the edition selected by you.
Another attractive part is it has an all edition package of Rs. 7170 for 7 lines which will cover every corner of Maharashtra.
It has few attractive and selective enhancements available to highlight your ad in the classified page like font color, bold box, bold box color etc. which you can avail by paying the additional premium charges.
Special Offers: Offers various insertion offers like Book 3 Get 1 Free, Book 5 Get 2 Free, Book 8 Get 4 Free , Book 12 Get 8 Free to gain your interest.
Available as epaper: Your ads will be reflected in physical copy of the paper plus in the online epaper which can be accessed for free. 
Sub sections of matrimonial ads
Matrimonial ads are only divided into two sub columns in lokmat they are:
Wanted Bride: Where the family of the prospective groom advertises under Wanted Bride section where they mention what type of bride they prefer.
Wanted Groom: The family of the prospective brides usually advertises under Wanted Grooms section where they mention what type of groom they prefer.
How to compose your ad content tips:
The effectiveness of the ad always depends on the composition of the ad. Thus, here are few tips which will help you to create ad content which will fetch a  good amount of quality responses.
Please check the contact details in the ad text to get a response. Also provide, if any, preferred timing for communication.
Ensure to mention DOB, time, place of birth, Manglik/ Non-Manglik and other astrological details for kundli/ zodiac matching.
Mention age and height so that responses are received from relevant age bracket and physical specifications.
Share any special preference, if any, like divorcee, non-divorcee, separated, NRI, physical disabilities, medical conditions.
Mention Religion, Caste, Community or No Caste Bar to ensure the right response from required social background.
Mention Educational/ Professional qualification looking for, to get a suitable qualified match.
Enumerate the profession, occupation, salary and place of residence to get appropriate response from desired lifestyle background.
 Ad formats & samples for Lokmat Matrimonial ads
Sample 1: Wanted Bride for our son
We are looking for an alliance for our son (Name), aged (30) years, residing in (Location), height (6'1″), (B.Com) graduate, (Religion), (Caste). The bride should hail from a decent, educated family. (Same caste/ caste no bar). Should be around (24) years. Contact with (Astrological) details 0000000000 or Email to mail@mail.com
Sample 2: Wanted Groom for our daughter
PQM for (Location) based fair girl, 1980 / 163 cm, Corporate Lawyer, LLM/UK, parents Sr. Exec., seeks liberal minded, suitable match in early 30's. E: mail@mail.com with photo. Caste no bar.
Sample 3: Divorcee / Remarriage
(Location) based (Religion) issueless divorcee boy 30/6'1" BE wrkg with MNC seeks suitable (Veg./Non Veg.) match. Contact : 0000000000 E: mail@mail.com
Sample 4: Bride Wanted for NRI 
क्षत्रिय मराठा 42/ 5'3″ NRI लंडनमध्ये स्थायिक नोकरीतल्या मुलीसाठी लंडनमध्येच स्थायिक हिन्दू मराठी क्षत्रिय किंवा ब्राह्मण वर पाहिजे व्हॉट्सएप फक्त 0000000000
Sample 5: Buddhist Groom Wanted
बौद्ध- वधु-25, MBBS सरकारी अधिकारी मुंबई। अनुरुप बौद्ध स्थळ पाहिजे। व्हाट्सअप्प मोबाईल न 00000000000
Deadline of placing Lokmat  matrimonial:
If you are thinking to place a matrimonial ad for the coming week let me tell you the focus day for these ads are Sunday and It's Easy to post ads for the next day as the deadline is flexible till 3 noon which means ultimate deadline for posting the ad for Sunday is within Saturday 3 noon.
releaseMyAd wants and tries to fulfil their client wishes till the end and we are here to help you to place your ad whenever and wherever you just plan. Through releaseMyAd, you could easily book Lokmat matrimonial ads online in a few simple steps. You can simply click into the given below and start exploring us to place your ad: https://lokmat.releasemyad.com/rates/matrimonial
Select the ad type – Classified Text or Classified Display
Choose the discount Package with your preferable location where you want to release the advertisement.
Next choose appropriate ad heading (wanted brides/grooms)
Proceed to compose the classified text ad you can check the "View sample ads" section for help. You can upload self-designed matter or edit the given templates in case of classified display ads.
Lastly, choose the publishing date for the ad and make the payment. You can clear the payment using Credit/Debit Card.
All the details of payment, ad status, invoice everything will be mailed to you on your registered email id. You can check and keep a track there about what's happening with your ad in its editorial approval – to – processing to – release confirmation on your email itself.
Contact Details:
If you are still confused about how to book Lokmat matrimonial ads, do not worry we have our experts who can help you with each and every step of booking from placing your ad to composing to publishing. You can reach our team on 9830629298 or mail us at book@releasemyad.com. You can also contact us via the online chat option from our website.
By allowing us to serve, you will save your time and money and will be getting the best available option for your advertisement on your area according to your pocket and need.