Lokmat is a Marathi newspaper started in 1971 by Jawaharlal Darda and owned by Lokmat Media Pvt. Ltd. The meaning of the word Lokmat means "People Opinion". it has now become the leading Marathi newspaper in Maharashtra & Goa.
releaseMyAd can make a display booking easily in Lokmat Aspire in the major cities and towns of Maharashtra and Goa like Mumbai, Nashik, Kolhapur, Solapur, Panaji, Akola, Aurangabad, Nagpur, Pune, Jalgaon, and Ahmednagar.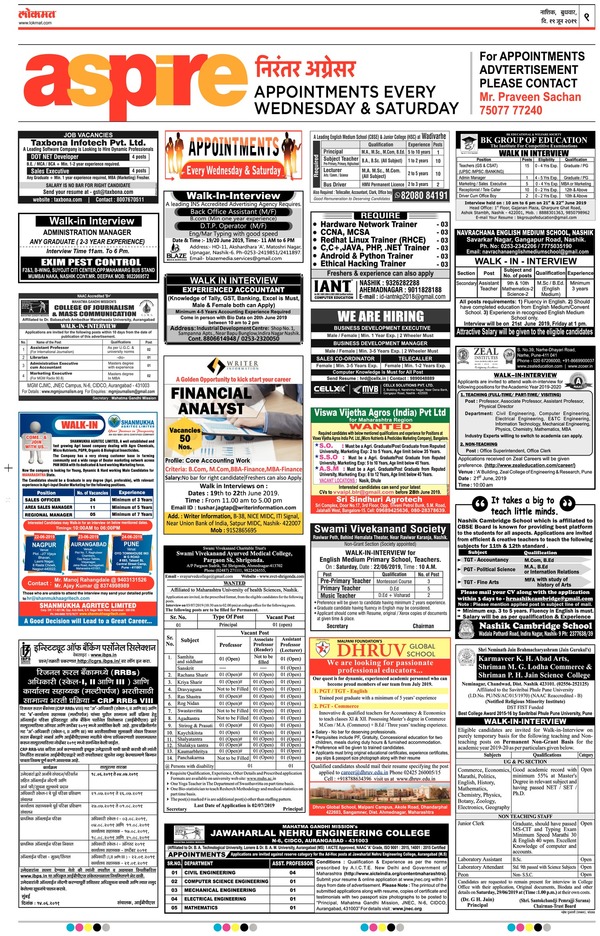 Book your Ad via releaseMyAd today and enjoy the benefits of latest discounts and exciting packages.
How To Book An Ad In A Lokmat Newspaper?
Booking Display ad with releaseMyAd is quite easy & Simple,
Select your suitable location (Like Pune, Nagpur etc )or you can choose our Exciting discounted package available as per your budget & proceed accordingly.
Enter Name, Contact No. & Email Id.
Select Ad Type as (Display)
Select Ad Design (you can take help from sample ad text just given beside the compose area) or you can upload your own designed matter.
select page preference & compose ad matter if selected.
select the Date, choose preferable offers If available 
Preview Ad cost
make payment online through NEFT or Debit Card, Google pay etc whichever is suitable for you. 
With the help of an executive Department

Send your matter through Mail, WhatsApp or Chat to any executive
Wait till the Rates Given by our expert executive
Executive team sends the Ad matter to the in-house designing team & once the design is complete it is sent to the customer for approval.
After approval of the ad matter payment is made by the customer through NEFT or Debit Card, Google pay etc 
Lokmat Aspire  is a weekly supplement that focuses on recruitment advertisements. This supplement is published Every Wednesday & Saturday. 
Minimum & Maximum Ad Size
The minimum ad size to book a display ad in Lokmat Aspire is 8 cm width x 4cm height & the maximum ad size is full page size – 33 cm width x 52 height.
So why wait,  book your display recruitment ad in Lokmat Aspire now at cheapest rates through releasemyad.
Booking an ad in Lokmat Aspire is really very easy with releaseMyAd as our portal is very first of its kind as it is a user friendly comprehensive online advertising booking platform designed in such a way so that advertisers can book their Display ad directly at lowest rates depending on Different category & size without any hassle.
Even if you want to upload your own designed matter, you can do the same.
The page preference for booking ad in Lokmat Aspire is:

| | | | |
| --- | --- | --- | --- |
| Any page | Third Page | Back Page | Front Page |
Pricing of every display ad depends on edition, page preference, ad Type(color/ b/w) & ad size.
Like for example: if you're booking a display ad in Pune edition(Ad Rate: Rs. 550/ sq cm) ad size: 8cm x 8cm, ad type: color & you select any page option then the cost is 36960(including GST)approx.
To get the best booking experience, place your ad through www.releaseMyAd.com, we provide the best negotiable rate in the market like no other.

To avoid Ad miss, Book your Display ad in Lokmat Aspire with Lokmat newspaper within the given time frame that is Two day earlier than the booking date.
Have any query or a doubt  regarding the ad booking in Lokmat Aspire just feel free to call us at 09830629298 or mail us at book@releasemyad.com, our ReleaseMyAd executive team is always ready to help & Guide you.