Owned by the prestigious Hindu Group, The Hindu is one of India's most recognised and highly accoladed English language newspapers that is known not only for its standard of English, but also the standard of journalism it delivers. The Hindu was started as a weekly newspaper in the year 1878, and it became a daily newspaper in the year 1889.
Ever since its foundation, The Hindu has grown to become a newspaper of record in India, which means its reporting is regarded as authoritative around the world. It is the second-most widely circulated English language news daily in India, second only to the Times of India. The Hindu is published from 17 locations across India, namely Chennai, Coimbatore, Bangalore, Hyderabad, Madurai, Noida, Visakhapatnam, Thiruvananthapuram, Kochi, Vijayawada, Mangalore, Tiruchirapalli, Kolkata, Hubli, Mohali, Allahabad and Kozhikode.
In India, arranged marriages are still the tradition, and a Hindu matrimonial ad may be just what you need to discover the perfect bride or the perfect groom. In Indian culture, a marriage is regarded as a highly significant celebratory event that symbolises not only the union of a bride and a groom, but of their families as well. Marriages are elaborate events, and every family wants to make the special day of their son or daughter all the more special. That being said, tremendous importance is placed in finding the most suitable partner so that the marriage is perfect.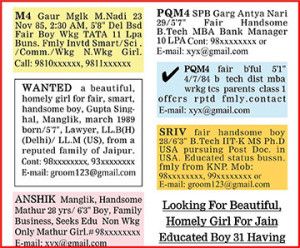 Despite the ever growing popularity of matrimonial sites, newspapers are still an integral part of Indian family life. Many Indian families still have an immense amount of trust in newspapers and regard the information and knowledge in them to be credible and trustworthy. Therefore, the matrimonial column in a newspaper is important even today as they help families find the best match for their sons and daughters.
The Hindu is one of the foremost names in English journalism in India. A Hindu marriage advertisement in the newspaper is highly recommended as the newspaper is widely read across India and is one of India's most respected.
releaseMyAd helps you book your Hindu matrimonial ad with great ease. Being the largest self-service ad booking platform in India, releaseMyAd is here to help to make finding a prospective bride or groom a hassle-free affair for you. With its commitment to offering you the best rates for all your ad requirements, releaseMyAd has a robust team of ad booking executives providing you guidance and support from the time you book your Hindu matrimonial ad right till the time it is published. With more than a decade of experience in the ad booking industry and a strong network of advertising partners located across the length and breadth of India, releaseMyAd simplifies your search for the perfect partner!