If you want to promote your business or find a suitable employee, advertise in Deccan Herald for gaining the desired attention. Deccan Herald being one of the top ten most widely read English-language newspapers in India, is highly effective in reaching your target audience. You can Book Ads in Deccan Herald through releaseMyAd which has full INS accreditation.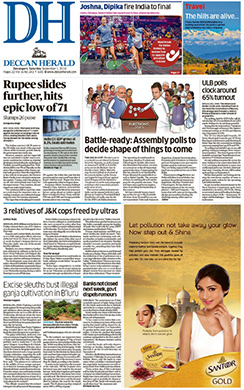 Just follow 3 simple steps to Book Ads in Deccan Herald:
Go to https://deccanherald.releasemyad.com/ and select your preferred ad type- Classified Text Ad/Classified Display Ad/Display Ad:

Classified Text Ads: They are the cheapest as they only contain text. These might appear to be simple but they are highly effective in communicating to your target audience. To attract more attention, Classified Text Ads can be highlighted by using a tick or by writing in bold and various other ways to ensure that it does not go unnoticed. You can ensure greater visibility at some minor and negligible costs. The Deccan Herald classified ads are used for Matrimonial, Astrology, Property and other advertisements.
Classified Display Ads:  These ads are booked for the categories of Obituary, Recruitment or Education. These contain images along with text. They are more attractive.
Display Ads: Display ads are the best option of the lot. It covers a whole page or half a page. It is colorful and alluring. Go for Jacket Ads which always attract the attention of the readers. You can employ various techniques to make Display Ads attractive like catchy headlines or taglines. 
Thereafter go through the discount packages available in the website and then choose your ad category and your ad location accordingly. For composing your ad, you can either choose from the ad samples or you can ask releaseMyAd to design the ad for you.
Select the date for publishing your ad and make the payment through online/offline methods. You will find the advertising schedule of The Deccan Herald in the website, which allows you to book advertisements in Deccan Herald on your specified dates easily. Debit/Credit Cards, Net Banking, Demand Draft, Cheques, NEFT and various other modes of payment are accepted. In some locations there are also cash collection facilities available. Immediately after the payment, you will be sent an invoice and your ad will be published on your chosen date.
Deccan Herald Newspaper Ads are the cheapest.  ReleaseMyAd in association with Deccan Herald has brought to you an online platform that offers advertisers the lowest rates, discount packages, circulation details and many other facilities. You can use this online portal to book your ads in Deccan Herald from anywhere and anytime you want.
For more visit www.releaseMyAd.com or call 09830629298 
releaseMyAd is one of the top advertising agencies in India and has collaborations with top newspapers. Book all types of ads here at affordable rates and within the shortest deadlines.
Mail us at book@releasemyad.com for further queries.
Happy Advertising!