Personal ads are placed in newspapers with the purpose of reaching out to people on a more human, more personal level. These ads can be used to convey good wishes, or to announce an event or social gathering, or to announce an engagement, party or reunion, or even to congratulate someone.
These advertisements are also published in the classifieds section of a newspaper, and they are indeed similar to other types of classified advertisements. However, unlike the other classified ads, personal ads do not seek to engage in any kind of business transactions. Instead, they help to reach out to people on a more personal level.
In other words, personal advertisements seek to build relations with people on a more human level. People use personal ads as a method to make an announcement about themselves, or a specific event in their lives, such as an engagement, a marriage anniversary, a reunion or the birth of a baby in their family.
Personal ads are also often used to convey good wishes or congratulatory messages to friends, family members and loved ones. People often use these ads to wish their loved ones on their birthdays, anniversaries, upon graduation or to wish them all the best before they start a new venture.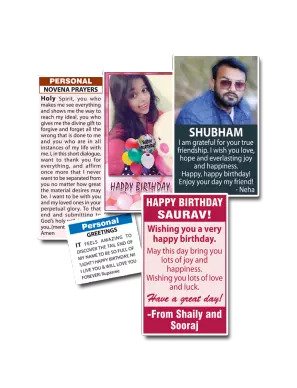 When people book personal ads in newspaper, they are able to make connections with other people by reaching out to a wider audience than they would have been able to otherwise. Sometimes, people seek to socialise and make new friends. Personal ads come in useful here as people are able to provide some basic information about themselves as well as their contact details, such as email addresses or phone numbers, making it possible for those who are interested to get in touch.
It is well known that newspapers are widely read across the length and breadth of India, and newspapers are a staple in every household. They are regarded as authentic and reliable sources of not just the news but a wide range of information, engrossing stories, informative articles and much more. Advertisements in newspapers too serve to make people aware, and they have a higher convincing power than advertisements on the radio or television.
releaseMyAd is here to help you book your personal advertisement in the newspapers of your choice. Being the largest self-service online ad booking platform in India, releaseMyAd offers you a truly comprehensive ad booking experience. With its strong network of advertising partners located across the length and breadth of India, releaseMyAd is proud to guarantee you the lowest ad rates for all your advertising needs.