On the 1st of January, 1932, Narayan Bhikaji Parulekar, known more popularly as Nanasaheb Parulekar, founded a newspaper that would one day become one of the most widely read regional language newspapers in India. This newspaper was called Sakal, a word which translates to 'Morning' in Marathi. The newspaper is owned and published by Sakal Media Group, and is one of the largest selling Marathi language daily newspapers in India. As it turns out, Sakal has been ranked among the top 10 regional language news publications in the country!
Sakal has its headquarters in Pune, and the newspaper has a large and engaged readership across the region and even across India. On any given day, it is estimated that Sakal has more than 1.3 million copies of the newspaper in circulation in Maharashtra, Goa and across India. It is a renowned news publication that is the first choice for Marathi speaking people across the region and the country, who regard the newspaper as an authentic and reliable source of news and information on a variety of topics.
Sakal has publishing units in the cities of Pune, Mumbai, Kolhapur, Sangli, Nashik, Auragabad, Nanded, Parbhani, Solapur, Nagpur, Satara, Akola and Jalgaon. It brings to its readers the latest news from the region, the rest of India and around the world. The newspaper caters to a vast readership estimated to be more than 6 million people located across Maharashtra, Goa and across India.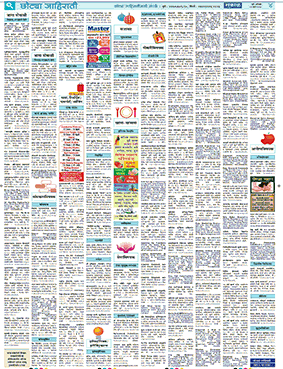 Along with the latest regional, national and international news, Sakal provides readers with a wide variety of content from various topics, such as sports, entertainment, science and technology, business and finance, and several others. Such a diverse range of news and information makes Sakal a newspaper for everyone, and therefore advertisers book Sakal classifieds in order to reach out to their respective target audience base, wherever they may be located.
Classified advertisements are immensely popular because they are easy to book and are very economical too! These ads are conveniently arranged on the basis of ad category, which makes it easy for people to find exactly what they are looking for.
Booking advertisements in Sakal will help you leverage the newspaper's wide audience and help you reach out to the people you want to reach out to. releaseMyAd helps you book your Sakal advertisement with great ease!
releaseMyAd is India's largest self-service online ad booking platform with more than a decade of experience in the advertising industry. Over the years, releaseMyAd has gained valuable experience and rich expertise in this field. With its strategic ad placement techniques and a strong network of advertising partners located across the country, releaseMyAd is proud to guarantee you the lowest rates for all your advertising needs.