There is deep emotion involved in remembering and missing a person who is no longer with us. Remembrance advertisements are published in newspapers to remember and honour the people who have left us, to commemorate their birth and death anniversaries, and to make it possible for people who knew or had an association with the departed person to remember them.
Publishing a remembrance classified ad in a newspaper provides a channel for the family of the deceased to express their sorrow and memory of the person, as well as to pay tribute to them and their achievements.
In other words, these ads are meant to pay respect and homage to a person, and to collectively share memories with the person. Through remembrance advertisements, extended family members, friends, colleagues, and other acquaintances can remember and cherish the memories they shared with the deceased person.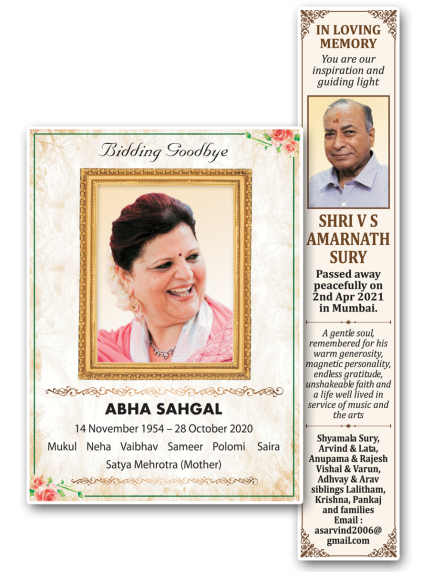 Remembrance ads are deeply personal, and they also serve the purpose of reminding the people who knew the deceased person on their birth and death anniversaries. By placing a remembrance ad in a newspaper, it becomes easier to get the message across to a large number of people. This is especially helpful considering how it is not only impractical but impossible to reach out to each individual person the deceased had an association with.
In India, newspapers are a staple across every household, and they are widely regarded by people as an authentic and reliable source of not just the news, but a variety of other information as well. They are a highly effective channel for people to share messages with a wider audience, making them a very appropriate place for remembrance advertisements.
releaseMyAd understands your emotions and helps you book remembrance ads in the newspapers of your choice. Being the largest self-service online ad booking platform with more than a decade of experience in the ad booking industry, releaseMyAd offers you an ad booking experience that is truly second to none. Select your preferred newspaper for remembrance advertisement and leave the rest to us.