Bartaman is one of the most well known Bengali language daily newspapers. Even though it made its entry into the Bengali news media space not very long ago, the newspaper has earned itself a large and loyal following among the Bengali speaking community.
Bartaman – which is also known as Bartaman Patrika – was founded in the year 1984 by Barun Sengupta. In spite of its relatively recent foray into the realm of Bengali language news media, Bartaman is well loved by its readers. It is the second most widely circulated Bengali language newspaper after Anandabazar Patrika.
The newspaper caters to a large, loyal and engaged reader base and is the preferred choice for a large number of Bengali-speaking families both in West Bengal as well as in other parts of the country. Bartaman has its headquarters in Kolkata, and it publishes editions of the newspaper to ensure people across West Bengal have access to all the latest news. Bartaman publishes editions for Kolkata, Siliguri, Burdwan, Malda and Midnapore. Publishing a Bartaman ad can help you get far greater visibility across the length and breadth of West Bengal.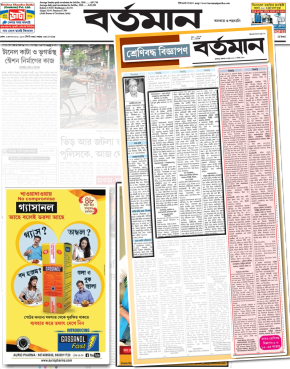 On each day, it is estimated that Bartaman has more than 6,30,000 copies of the newspaper in circulation, being read by a total readership that is estimated to be more than 1.03 million people across West Bengal and beyond.
Readers of Bartaman Patrika are from varied backgrounds and cultures, and have similarly varying tastes and interests. Bartaman provides its readers with all the latest regional, national and international news stories, as well as a range of stories and articles from several topics of interest. These topics include sports, entertainment, health and lifestyle, science and technology, business, astrology and agriculture.
Given such a vast range of content on offer, one can say that Bartaman is a newspaper that has something for all its readers. It is well known that reading newspapers is an integral part of the Indian lifestyle, and newspapers themselves are a staple across households.
People regard newspapers as trustworthy and reliable sources of not just the news but of a range of other information as well. They view newspapers as authentic information sources, and also rely on newspaper ads to find products, services, important announcements and a platform to broadcast their own message to a wider audience.
Classified ads are particularly popular because they are cost effective and easy to book. They are among the most popular forms of advertising, and they are conveniently arranged on the basis of ad category, which makes it easy for people to find what they need.
Through releaseMyAd's easy to use platform, you can book ads in Bartaman newspaper seamlessly and within minutes. releaseMyAd, being the largest self-service online ad booking platform in India, makes it possible for you to book your ads instantly at any time and anywhere. With its strategic ad placement techniques and a strong network of advertising partners located across the country, releaseMyAd proudly guarantees you the lowest ad rates anywhere.