In today's world, Print Media plays an important role in effective communication as the world has been globalized. There are different types of print media and the most significant is Newspapers. They are generally delivered to your doorstep, available at newsstands, and are able to reach a huge mass audience in a very inexpensive way. Different types of audiences are catered by different types of newspapers and a newspaper has different segments to it. For example, The Economic Times has eight supplements which comprise the main paper, Obituary, Ascent, Financial, Public Notice, ET Panache, Tenders, and Court Notice.
Economic Times ranks second in the most widely read English language business newspaper belt just after The Wall Street Journal. It is published by Bennett Coleman & Co. Ltd. and has a daily readership of 8,00,000 across major Indian cities like Mumbai, Pune, Kolkata, Delhi, Bangalore, to name a few. It lets the readers enjoy excellent reporting on the Indian economy, finance, and international business matters. Its immense popularity and economic rates are preferred by numerous advertisers to advertise in The Economic Times.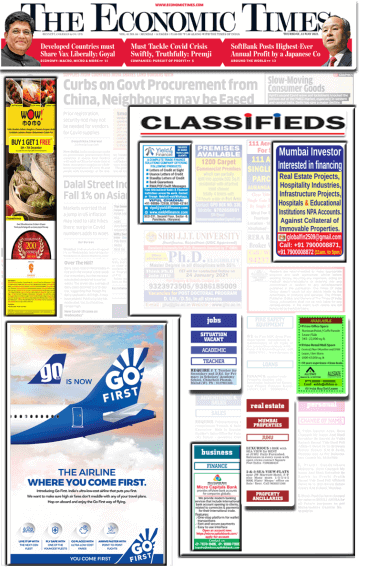 The Economic Times Ad Formats consist of Classified Text Ad, Classified Display Ad, and Display Ad. Those days are long gone when advertisements were booked by going to the newspaper office personally and manually filling the form, or finding ad agents. The development in the information and communication sector has made newspaper ad publication easy and less laborious. Now advertising in a prestigious business newspaper like The Economic Times is 100% online and has become extremely convenient due to the availability of the online ad booking portal called releaseMyAd.com.
One can easily book The Economic Times advertisement through the releaseMyAd portal in just a few simple steps. Advertisers also have the amenity to publish business ads in the newspaper by viewing the specific rates for the same and having the option of paying online which makes the entire process hassle-free. The award-winning portal also provides the user with perks like free creative assistance, 24/7 customer care as well as expert advice you can trust! The advertisers only need to ensure that they book the ad 2 days in advance and releaseMyAd.com will make sure that the advertisement gets featured in the most read business-daily in the country!
For any queries related to advertising in The Economic Times, feel free to contact customercare@releasemyad.com or call at 09830629298.