With its foundation dating back to the year 1961, The Economic Times is India's largest selling English language business newspaper. Owned and published by the reputed Bennett Coleman & Co. Ltd, which is known more popularly as The Times Group, The Economic Times is a newspaper that focuses mainly on news from the world of business, finance, markets and the economy.
The Economic Times, as a matter of fact, is the world's second most widely read English language business newspaper, being second only to The Wall Street Journal!
The newspaper is published daily from 14 printing locations across the country. These locations are Mumbai, Bangalore, Delhi, Chennai, Kolkata, Lucknow, Hyderabad, Jaipur, Ahmedabad, Nagpur, Chandigarh, Pune, Indore and Bhopal. On any given day it is estimated that there are more than 3,50,000 copies of the newspaper in circulation, catering to a total readership estimated to be in excess of 8,00,000 people across India.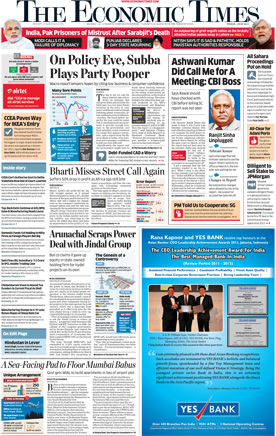 With news primarily centred around the economy of India, business news from around the world, global finance, the share market, commodity prices, industry news and news from India and the world, The Economic Times offers a vast selection of content for all its readers. It also provides readers with stories from topics such as automobiles, real estate, health, energy and even national and international politics.
Even though it may be a business focused news publication, it is widely read by people who aren't involved in business. For this reason, it is an excellent choice for booking your classified ads.
An Economic Times ad is sure to help you reach out to a large number of people. Classified ads are immensely popular as they are easy to book and also easy on the pocket! These advertisements are conveniently arranged according to ad category. Whatever category of advertisement you wish to book, releaseMyAd is here to make your ad booking experience swift and seamless!
Book your ad in Economic Times newspaper through releaseMyAd and reach out to your target audience. releaseMyAd is India's largest self-service online ad booking platform with more than a decade of experience in the advertising industry. Over the years, releaseMyAd has gained valuable experience and rich expertise in this field. With its strategic ad placement techniques and a strong network of advertising partners located across the country, releaseMyAd is proud to guarantee you the lowest rates for all your advertising needs.