In a country like India, there is no shortage of newspapers in an assortment of languages. So then why would you want to book an ad in Amar Ujala of all newspapers?
Let us tell you why. 
Amar Ujala is a Hindi language daily newspaper that was founded in the iconic city of Agra in the year 1948, soon after India became an independent country. Today, the newspaper is headquartered in Delhi and it has grown to become India's third largest newspaper with an average circulation of more than 2.6 million copies on an average day.
Amar Ujala publishes 20 editions in 7 states, namely Uttarakhand, Himachal Pradesh, Jammu and Kashmir, Haryana, Delhi (serving the National Capital Region) and Uttar Pradesh. Amar Ujala also publishes an edition in Chandigarh, the only Union Territory it publishes from.
Today, Amar Ujala reaches a total of 180 districts in the regions it has a presence in. With an estimated total readership of over 46.5 million, Amar Ujala is one of the most widely read Hindi language news dailies in India.
Amar Ujala has grown to become one of the fastest growing daily newspapers in India,and is ranked No.1 in the regions of Uttarakhand, Himachal Pradesh and Jammu and Kashmir, and the newspaper is ranked second in the state of Uttar Pradesh.
The newspaper delivers high quality Hindi language journalism, and provides content from a vast range of topics, including local, national and international news, sports, lifestyle, politics, entertainment, technology, astrology and many more.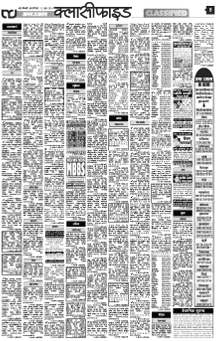 Amar Ujala's extensive presence in India's majority Hindi-speaking regions and the diversity of content offered in every edition makes it an ideal choice for booking your classified ads. Classified advertising is one of the most popular forms of advertising and is very economical as well. releaseMyAd helps to make Amar Ujala ad booking a swift and time-saving experience for you.
Booking your Amar Ujala classified has never been easier! With the help of releaseMyAd, you can reach out to your target audience without a hassle. releaseMyAd, with its more than a decade of experience in the ad booking industry, helps to get your Amar Ujala ad published without hassle. Being India's largest self-service ad booking platform, releaseMyAd offers you its rich expertise and a seamless ad booking experience. With an extensive network of advertising partners across India, releaseMyAd is proud to offer you the best rates for all your ad requirements.