Anandabazar Patrika is one of the most well known regional language newspapers in the entirety of India. The newspaper was launched by Suresh Chandra Majumdar and Prafulla Kumar Sarkar in the year 1922. Originally published as a four-page daily evening newspaper, Anandabazar Patrika has grown to become the largest selling Bengali language daily newspaper today.
Widely regarded by many as 'the voice of Bengal' for its standards of journalism and the quality of its news reporting, Anandabazar Patrika is read by a large number of people across the state of West Bengal.
The newspaper has its headquarters in Kolkata, and it is the flagship publication of the ABP Group. Popular among people of all ages and from diverse backgrounds and walks of life, Anandabazar Patrika is nothing short of a household name in the region.
On any given day, it is estimated that Anandabazar Patrika has more than 1.2 million copies of the newspaper in circulation, catering to a large reader base that is estimated to be more than 12.7 million people across the length and breadth of West Bengal, as per data from the Indian Readership Survey of the 3rd quarter of 2019. It goes without saying that an Anandabazar Patrika classified ad can get you a great deal of visibility!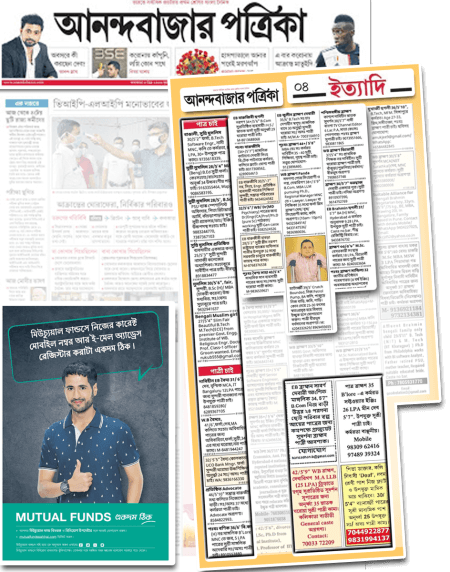 Every day, the newspaper brings to its readers all the latest news stories from the region, the rest of India and around the world. Along with the news, Anandabazar Patrika also offers a diverse selection of stories, articles and content from a variety of topics. These topics include sports, science and technology, lifestyle, entertainment, business, and many more. Also presented in the newspaper are dedicated sections for astrology, leisure, current events and editorials.
This diverse selection of content makes Anandabazar Patrika a favourite in the region, and one can easily see why a large number of people across West Bengal prefer to book their classified ads in the newspaper.
Newspapers are an integral part of the social and cultural lives of the people in India, and they are widely regarded as authentic and reliable sources of information on a vast range of subjects. Needless to say, advertising in newspapers is an excellent way to reach a vast audience as newspapers are a staple in every household.
releaseMyAd is India's largest self-service online ad booking platform with more than a decade of experience in the advertising industry. On releaseMyAd's platform, you can not only browse Anandabazar Patrika classified today, but also read the latest editions of the newspaper as well in addition to booking your classified ads. releaseMyAd offers you end to end guidance and support and is proud to guarantee you the lowest rates for all your advertising needs.