A share certificate is a document that serves as proof of an investment made in a company. These certificates are distributed when a company has raised capital by issuing shares. Share certificates certify that a person is the legal and rightful owner of a part (which is the share) of a company. Therefore, share certificates are extremely valuable documents and they need to be taken good care of.
Companies issue share certificate notices when they make announcements regarding decisions involving their share capital, which include an issue, a further issue, a buyback or a dividend payout.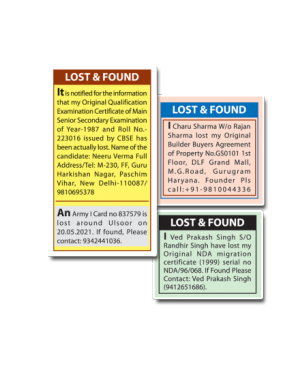 As share certificates are documents which, at their very core, are worth the actual monetary value of the portion of the company that is owned by the shareholder, they are very important documents. That being said, publishing share certificate advertisements is a means of making the public aware of a decision pertaining to a company's share capital.
However, it may so happen that a share certificate may get lost or misplaced. It goes without saying that this causes distress and tension to the holder of the share certificate. On such an instance, getting a duplicate share certificate issued becomes all the more urgent. To facilitate the issuance of a duplicate share certificate ,a lost share certificate ad in newspaper must be booked first. Along with a newspaper ad where the loss of the share certificate is declared, an FIR must also be booked for the same reason. These are legal requirements that need to be fulfilled before a duplicate share certificate can be issued by the company.
In addition to fulfilling a legal requirement, publishing a lost share certificate ad in a newspaper has a number of benefits too. These ads serve to inform the public that a share certificate has been lost, and that the loss of the share certificate is legitimate. This makes the request for the reissuance valid, and also prevents the shares that a person owns from being wrongfully claimed by someone else. 
releaseMyAd is here to help you book your lost share certificate advertisement seamlessly and within minutes. Being the largest self-service online ad booking platform in India, releaseMyAd is proud to offer you a user-friendly and hassle-free ad booking experience. With its strategic ad placement techniques and its large network of advertising partners located across India, releaseMyAd guarantees you the lowest ad rates for all your advertising needs.