One of India's leading English language news dailies, The Assam Tribune was founded in the year 1939 by the eminent Radha Govinda Baruah in Guwahati. Over the years, the newspaper has made a name for itself as one of the most respected news publications in the region and today it is the most widely circulated English language daily newspaper in India's North Eastern states.
The Assam Tribune is published from Guwahati and Dibrugarh and caters to a large and loyal readership across the region and the rest of India. It was originally launched as a weekly newspaper, but today it is a daily newspaper with more than 7,00,000 copies in circulation on average per day. The newspaper holds a high reputation for its standards of journalism and reporting.
The newspaper caters to a total readership that is estimated to be well over 3 million people across Assam, the North East and the rest of India. It provides readers with the latest news and updates on ongoing events from the region, the rest of the country and from around the world. Along with the latest news, The Assam Tribune offers a vast array of information and stories from an extensive range of topics such as sports, business and economy, leisure and lifestyle. The newspaper also has editorial sections and a section dedicated to campus news.
The popularity and rich repute that The Assam Tribune enjoys among its readers makes it an ideal choice for advertisers, both large and small, to harness the newspaper's potential in reaching out to their target audience through an Assam Tribune advertisement.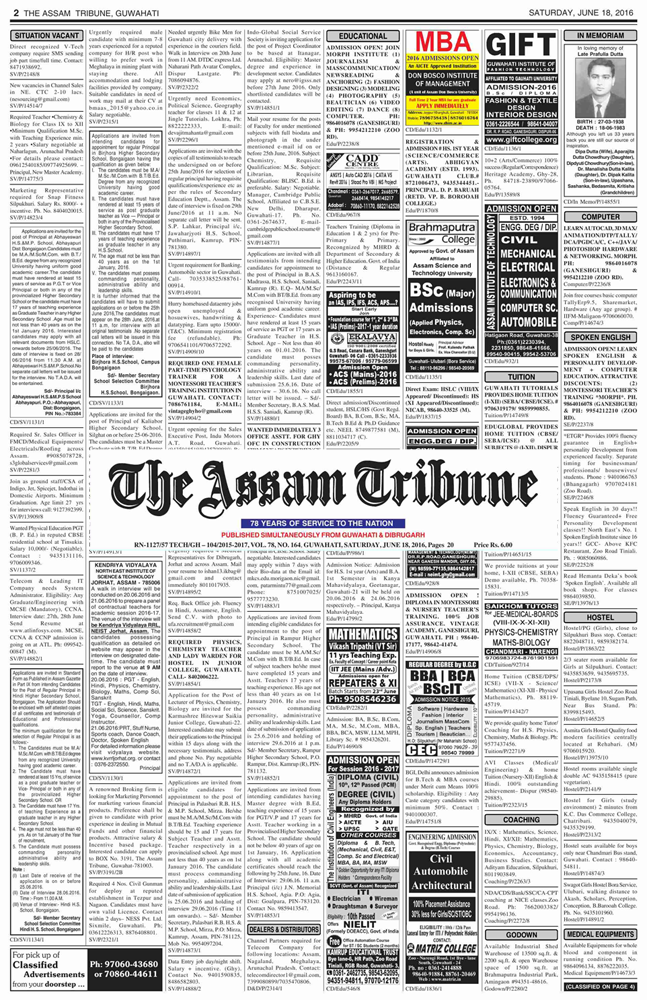 Whether you are an individual or the owner of a business, booking a classified ad in The Assam Tribune is sure to bring you rich rewards in the form of valuable leads or in the form of coverage across the region. 
It is well known – and psychological research has proven – that advertisements in newspapers are generally more successful in persuading audiences towards a certain action than radio or television advertisements. Therefore, it is no surprise that an Assam Tribune ad could give you the reach you need!
Book your ads in Assam Tribune through releaseMyAd and get your message noticed by the people you want to reach out to. releaseMyAd is India's largest self-service online ad booking platform with more than a decade of experience in the advertising industry. Having gained rich expertise and a wealth of experience over the years, releaseMyAd offers you an ad booking service like no other. releaseMyAd, through its strategic ad placement techniques and a strong network of advertising partners located across the length and breadth of the country, is proud to guarantee you the lowest rates for each and every one of your advertising needs.