All of us have various documents that contain important information, or are instruments that serve as proof of our identity, residential address, education qualifications and even citizenship. Needless to say, these are documents that need to be handled with utmost care and looked after properly. But we are all human beings, after all, and despite all the best efforts, it may so happen that we misplace or lose a document that is important to us.
At some point or the other, people misplace documents of great importance, such as an identity card, driving licence, university marksheet, graduation certificate, diploma, share certificate, passport or ration card. Naturally, when one misplaces documents of such importance, it will cause a lot of distress and tension. Therefore, obtaining duplicates of the misplaced documents becomes urgent. And that is where a certificate lost newspaper ad comes in.
Retrieval of a lost document is always preferred, but very often it is difficult to trace or locate them, and therefore arranging for the issuance of duplicates becomes the topmost priority. People can misplace documents due to a variety of reasons, including travelling from one place to another, moving to a new house, theft and even improper handling.
Whatever the reason may be, if a crucial document is lost or misplaced, a duplicate of the same needs to be obtained. It is a legal requirement that the person who is missing a document file an FIR at the nearest police station as well as place an advertisement in the newspaper that states that the particular document has been misplaced.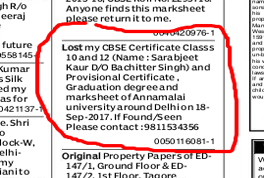 Publishing a lost documents advertisement in the newspaper fulfils two objectives. The first being, informing the public that a certain document is missing, and if found, the finder should contact the owner in order to facilitate its rightful return. The second objective this fulfils is the prevention of fraudulent or nefarious actions. In other words, this is a legal safeguard to keep fraud in check.
So, if you have misplaced a document, book a newspaper advertisement for lost certificates through releaseMyAd's easy to use ad booking platform so that you can obtain duplicates without any hassle. 
releaseMyAd is India's largest self-service ad booking platform with more than a decade of experience in the advertising industry. Over the years, releaseMyAd has gained tremendous experience and valuable expertise in this domain. With its strategic ad placement techniques and a strong network of advertising partners located across the country, releaseMyAd is proud to guarantee you the lowest rates for all your advertising needs.