Hindustan Times is one of the most respected and prestigious English language daily newspapers in India. Founded in 1924, and with its origins in the Indian Independence Movement, Hindustan Times has grown to become one of India's largest newspapers in terms of circulation. It is the flagship publication of HT Media Ltd. and is widely hailed for its high calibre journalism and comprehensive reportage.

Though popular in North India, Hindustan Times reaches all corners of the country and caters to a wide readership exceeding 37 million people with an estimated circulation of 1.4 million copies. It is said to be the No.1 English language newspaper in Delhi and Mumbai.

In India, marriages have been traditionally regarded as one of the most important events in a person's life. In Indian culture, a marriage signifies not only the coming together of a bride and a groom but also the union of their respective families as well. Since time immemorial, arranged marriages have been the norm in India, and to this day still remains the norm. Indians place great emphasis on finding the perfect partner since a marriage is believed to be a sacred and lifelong bond between two people. In arranged marriages, it is the parents and the elders of the family who are involved in finding the most suitable partner for their sons and daughters.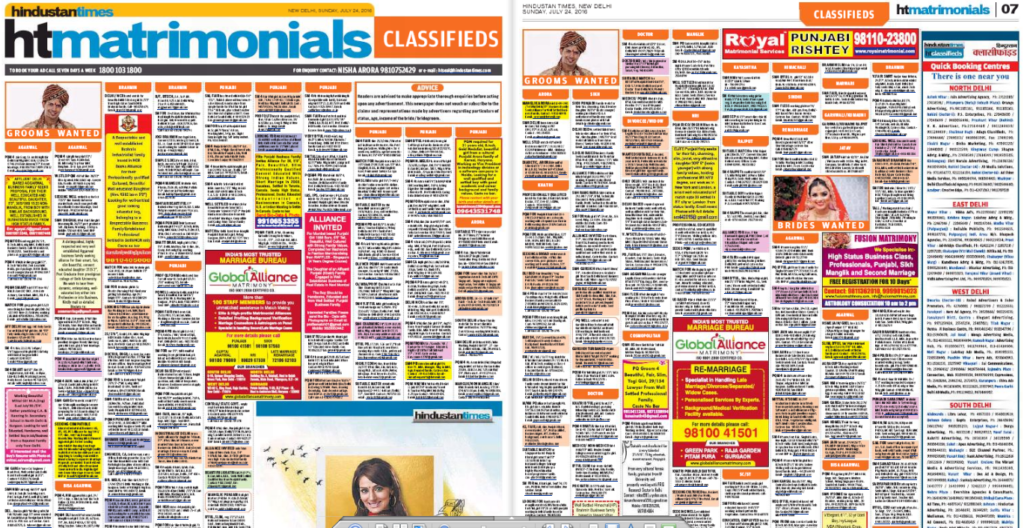 Given the significance of arranged marriages even today, the matrimonial column in the newspaper still remains an important part of Indian cultural life, despite the fact that more and more people are either finding their partners on their own or signing up on matrimonial sites.

However, despite technological advancements over the years, the newspaper still remains the trusted choice of many across cities and villages in India, making it an ideal channel for your advertising needs. Hindustan Times advertising is a recommended way to get yourself noticed. You can place your matrimonial ads in Hindustan Times and reach out to a large number of people in cities and villages across the country. Publishing your Hindustan Times matrimonial ad through releaseMyAd is an effective way to facilitate your search for the most suitable bride or groom.

On releaseMyAd, you are guaranteed the lowest rates for all your ad requirements as well as attractive packages for your Hindustan Times matrimonial ad. You can browse the rates for different city editions of Hindustan Times on our website as well as ongoing discounts if any.

Book your matrimonial ads in Hindustan Times and leverage the vast network of advertising partners that releaseMyAd has, and avail of the lowest rates, guaranteed!