Madhyamam is a renowned regional language newspaper that is based in Kerala. The newspaper was launched in 1987. It is one of the most popularly read Malayalam language newspapers in India, and commands a sizable reader base in the Middle Eastern region as well.
The name 'Madhyamam' translates to 'Medium', and the newspaper is widely regarded as a high quality source of all the latest news from the state of Kerala, the rest of India, the Gulf region and the rest of the world.
The newspaper was founded by Ideal Publications Trust, which is run by the Jamaat-e-Islami Hind wing based in Kerala. Every single day, it is estimated that Madhyamam has more than 1,50,000 copies of the newspaper in circulation on average, catering to a total readership of more than 6,00,000 people in Kerala and other parts of India as well, according to data published by the Indian Readership Survey of the year 2021 as well as of the fourth quarter of the year 2010. It is the fourth most widely read newspaper in Kerala. The newspaper, along with its team of journalists, has been the recipient of numerous awards and accolades over the years, including the Ramnath Goenka Journalism Award, the Statesman Award for Rural Reporting, PUCL Journalism Award for Human Rights, ESR World World Journalism Prize and the Asian Development Bank Institute (ADBI) Developing Asia Journalism Award.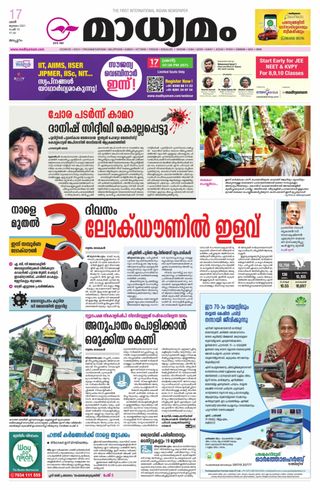 In order to cater to its large reader base, Madhyamam publishes ten editions from locations across India. These locations are Kozhikode, Thiruvananthapuram, Kottayam, Kochi, Malappuram, Kannur and Thrissur in Kerala, and from the rest of India, the newspaper is published from Bangalore, Mangalore and Mumbai.
The newspaper also has a subsidiary, called Gulf Madhyamam, which is published in the Middle East to cater to the non-resident Malayali community residing in countries like Saudi Arabia, the United Arab Emirates, Oman and Qatar.
In view of its wide circulation, Madhyamam is an excellent choice for booking newspaper ads. By placing a Madhyamam advertisement, it is possible to reach out to a much larger audience.
India is a country where newspapers are an integral part of the social and cultural lives of the people, and newspapers are regarded by many as dependable and trustworthy sources of information. As a matter of fact, advertisements in newspapers have a higher persuasion power than advertisements on the radio or television.
releaseMyAd is here to help you book your Madhyamam classifieds, so that you can reach out to your desired audience, wherever they may be located. Being the largest self-service online ad booking platform in India, releaseMyAd is here to help you book your newspaper classifieds in Madhyamam seamlessly and within minutes. releaseMyAd, with its strong network of advertising partners located across the country, is proud to guarantee you the lowest ad rates anywhere!