Lokmat is a leading Marathi language daily newspaper that was founded in the year 1971 by Jawaharlal Darda. The name of the newspaper translates to 'People's Opinion' and it is one of the widely read regional language news dailies in India. It has the largest circulation in the states of Maharashtra and Goa. Lokmat publishes 12 editions of the newspaper, and they are read by a combined total readership of more than 20 million readers who speak Marathi. Lokmat is also the second-most widely read regional language newspaper in India.
Lokmat has an estimated total circulation of more than 1.6 million copies of the newspaper on an average day. Lokmat's readership is composed of a large and loyal audience that is educated and well-informed. The 12 editions of the newspaper are published, respectively, from Mumbai, Pune, Aurangabad, Nashik, Nagpur, Solapur, Kolhapur, Satara, Told, Ahmednagar Akola and Jalgaon in Maharashtra, as well as its Goa edition that is published from the aforementioned state.
Lokmat also publishes a newspaper in the Hindi language, which is called Lokmat Samachar, and this newspaper is available in 3 editions. Lokmat Samachar is the most popularly read Hindi language newspaper in Maharashtra.
In addition, there is an English language newspaper published by Lokmat called Lokmat Times, and it is published from Aurangabad, Nagpur and Nashik. Lokmat Times has an estimated readership of more than 5,000,000 readers.
The newspaper offers a vast selection of content in its pages. It provides comprehensive and well-rounded coverage of the latest news from the region, across India and from around the world. In addition to the latest local, regional, national and international news, Lokmat gives readers inspiring and engrossing content spanning a diverse range of topics, including entertainment, sports, lifestyle, politics, technology and several others. Such a wide range of content has made Lokmat popular among readers of all age groups and cultural backgrounds.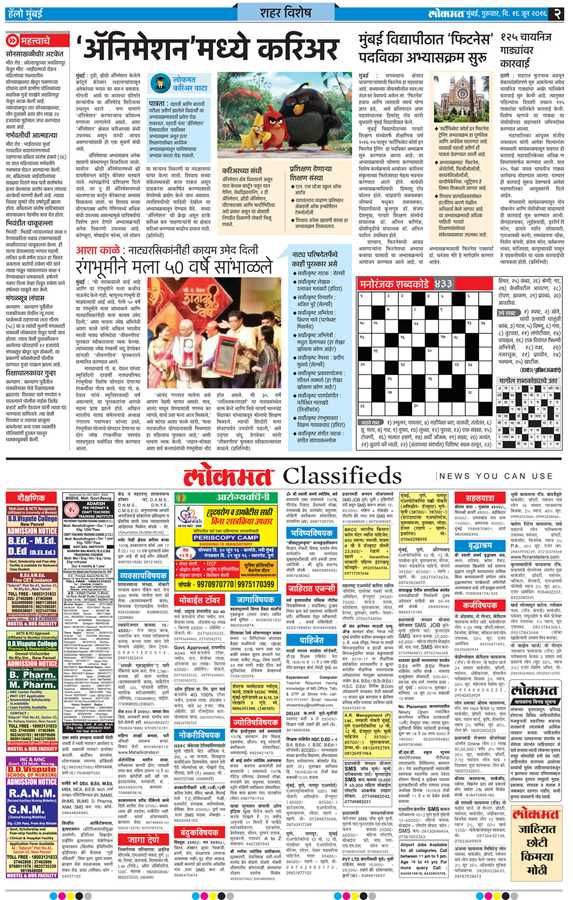 In view of the audience that Lokmat caters to, booking a Lokmat classified is sure to get you and your brand the coverage needed. Whether you are an individual or a business owner, advertising in Lokmat classifieds is a highly recommended proposition as these ads will help you communicate your message to the people you want to reach out to.
Lokmat enjoys a high reputation among its readers across the states of Maharashtra and Goa, and also among Marathi speaking readers across the rest of India. releaseMyAd is here to help you book your Lokmat newspaper classified and maximise your leads.
releaseMyAd is India's largest self-service online ad booking platform with more than a decade of experience in the advertising industry. releaseMyAd has gained significant and valuable experience in the field of advertising as well as rich expertise in the domain. With a view to make ad booking simple, releaseMyAd offers you an ad booking service like no other. releaseMyAd, with its strategic ad placement techniques and a strong network of advertising partners located across India, is proud to guarantee you the lowest rates for all your advertising needs.