Dainik Bhaskar is one of India's best known and most widely read Hindi language daily newspapers today. Bringing all the latest news stories to a large and loyal reader base that is highly engaged, Dainik Bhaskar is the preferred news source for millions of people across India. Display ads in City Bhaskar can get you greater visibility in all the cities where Dainik Bhaskar is circulated.
The newspaper has an interesting origin story. Originally, Dainik Bhaskar was founded in the year 1948 as Subah Savere in Bhopal and as Good Morning India in Gwalior. Both these news brands came together in the year 1957 and were made into one news brand called Bhaskar Samachar. In the year 1958, the name of the newspaper was changed to Dainik Bhaskar, and this is the name that has remained ever since.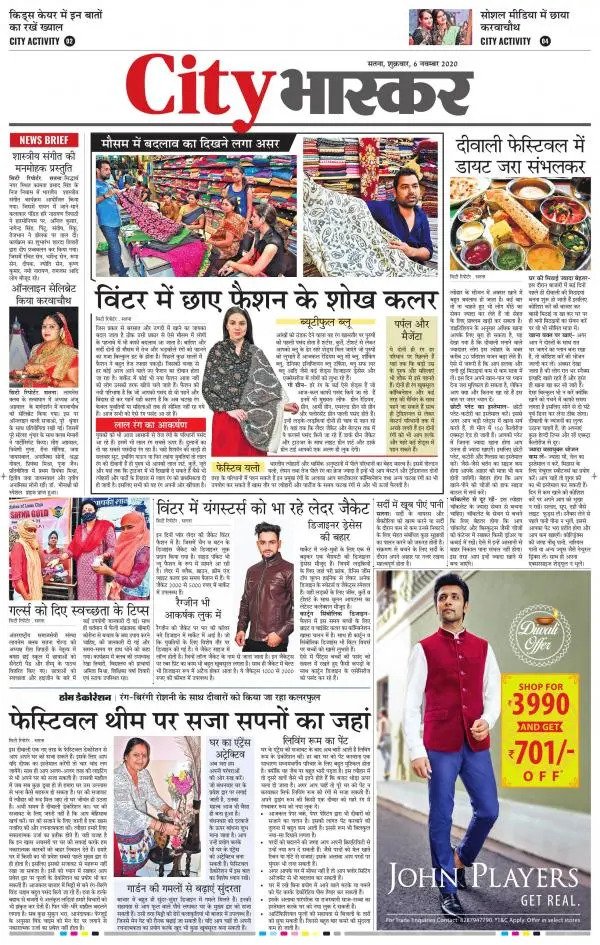 Over the years, Dainik Bhaskar has established itself as a premier Hindi newspaper, and is one of the largest selling news dailies in the entirety of India today. It is renowned for its high standards of journalism and news reporting, and provides a comprehensive and thorough coverage of all the latest stories from the region, the rest of India and around the world.
On any given day, it is estimated that Dainik Bhaskar has more than 3.8 million copies of the newspaper in circulation, being read by a vast readership mainly across the predominantly Hindi speaking states of northern India.
In each of its editions, Dainik Bhaskar brings to its readers all the latest local, regional, national and international news stories, as well as a wide selection of content spanning numerous topics of interest. These topics include business, sports, lifestyle, politics, technology and many others.
In addition to all these stories, Dainik Bhaskar comes with a daily pullout called City Bhaskar. This is a special supplement that contains interesting and informative articles and content regarding the respective city it is published for. It delivers all the latest local news from the city, and also contains information regarding any ongoing or upcoming events. City Bhaskar provides readers with a window that gives them a closer look at the city.
releaseMyAd is here to help you book your display ads in your chosen editions of City Bhaskar, so that you can target your desired audiences in the cities of your choice. Being the largest self-service online ad booking platform in India, releaseMyAd is proud to offer you the best City Bhaskar ad booking rates anywhere. Providing you a user-friendly ad booking platform with end-to-end guidance and support, releaseMyAd makes sure your ad booking experience is seamless and hassle-free.